After Ryder Cup flop, Mickelson says he's done with 'brutal' rough
Comments
By Reuters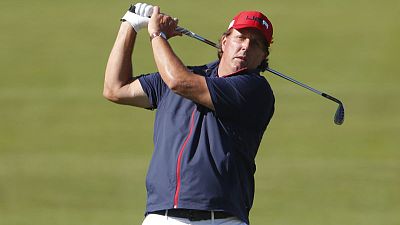 -
(Reuters) – Phil Mickelson failed to record a single point for the United States in their lopsided Ryder Cup defeat to Europe last weekend and the American says he no longer has any interest in playing courses that feature "brutal rough".
In his 12th Ryder Cup appearance, Mickelson was restricted to only two matches at Le Golf National in Paris. He partnered Bryson DeChambeau to a foursome's defeat on the opening day and was not seen again until the Sunday singles, where he lost to British Open champion Francesco Molinari.
It was the first time he failed to contribute even a half-point to the United States' cause as the visitors relinquished the Cup after a 17 1/2 to 10 1/2 defeat.
Mickelson was clearly not a fan of the course.
"I'm 48, I'm not going to play tournaments with rough like that anymore. It's a waste of my time," Mickelson told reporters on Thursday at the Safeway Open in Napa, California.
"I'm going to play courses that are playable, and I can play aggressive, attacking, make lots of birdies type of golf I like to play.
"The fairways were 14 to 16 yards wide. The fact is they had brutal rough, almost unplayable and that's not the way I play," he added. "I don't play like that."
While there were reports that American team mates Brooks Koepka and Dustin Johnson had clashed after the defeat, Mickelson said there had been no disharmony in the U.S. camp.
"We had one of the best weeks as far as team mates and working together," he said. "I don't know what to say, I didn't see any of that stuff happen – I only saw one of the best weeks and team unity that we've had in a long time."
(Writing by Jahmal Corner in Los Angeles; Editing by Peter Rutherfordpeter.rutherford@thomsonreuters.com; +822 3704 5698 ReutersMessaging: peter.rutherford.reuters.com@reuters.net)