Raw Politics week in review: emotions run high and May lays her cards on the table
Comments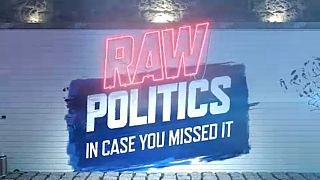 Members of the European Parliament made their monthly relocation from Brussels to Strasbourg this week with the Raw Politics team hot on their heels.
The centre of attention at the start of the week was arguably in neither Belgium or Alsace but in Birmingham, where the UK's governing Conservative Party was gathered for its annual conference. From Jeremy Hunt likening the EU to a Soviet gulag to Theresa May's dance moves and speech on Brexit, there was plenty to keep MEPs tongues wagging.
Away from the UK it was also a week where Romania, Macedonia and Italy came up regularly in conversations overheard in Strasbourg, while another candidate for the European Commission presidency threw his hat into the ring.
Catch up with the big news of the week in the video above.