Ireland rejects Dublin city proposal to house homeless on cruise ship
Comments
By Reuters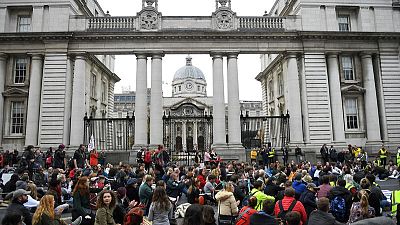 -
DUBLIN (Reuters) – Ireland's government has rejected as "unsuitable" a proposal by Dublin City Council to house some of the capital's homeless people on a cruise ship to help offset a severe housing shortage.
The council explored the possibility of renting a ship to house up to 150 single homeless people in response to pressure from the central government to ramp up efforts to get rough sleepers off the streets, the Irish Times reported on Thursday, quoting correspondence between the council and government.
"The cruise ship idea is not suitable for homeless families in need. Better, more appropriate, solutions are being pursued every day by the Dublin Regional Homeless Executive," Housing Minister Eoghan Murphy said on Twitter, responding to the report.
Murphy said the Dublin Regional Housing Executive was looking at other properties to deliver emergency accommodation facilities for homeless individuals in the Dublin region.
Brendan Kenny, head of the council's housing services department, told the Irish Times that the cruise ship plan was raised when the city struggled to house single homeless males.
But he said the situation had since changed and a ship would not be suitable for the current, greater need to house families.
He said, however, it was not something the council was ruling out for the future. A spokeswoman for Dublin City Council said it currently had no plans to consider using a cruise liner as emergency accommodation for the homeless.
The scarcity of housing, exacerbated by a sharp economic recovery, is the biggest domestic problem facing Prime Minister Leo Varadkar's government ahead of a possible general election.
According to the government's latest figures, there were almost 10,000 people, including children, in emergency accommmodation at the end of August.
Thousands of people marched to the Irish parliament on Wednesday in protest at the dearth of housing and resultant sharp increase in rental costs.
(Reporting by Graham Fahy, editing by Padraic Halpin and Mark Heinrich)