Ex-hitman sues after TV drama reveals his Mafia past to daughter
Comments
By Saphora Smith and Claudio Lavanga and Alex Holmes with NBC News World News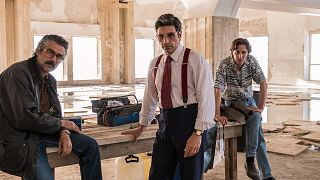 A former Mafia hitman is suing a TV network after his teenage daughter learned of his bloody past through one of its shows.
Pasquale Di Filippo toldLa Repubblica newspaper that his daughter burst into tears when watching a period drama about the Sicilian mob in which he is depicted as torturing rivals and killing more than 20 people.
Di Filippo, who served 10 years in prison after confessing to four murders, disputes the show's portrayal of him.
He recounted that the 14-year-old shouted, "Dad, what have you done?" after watching "Il Cacciatore" — which translates to "The Hunter."
The former assassin says she'll only leave her bedroom to go to school.
Di Filippo alleges he has been defamed and is suing the Rai TV network and the production company which made the series for 1 million euros ($1,149,625).
Neither Rai nor the production company immediately respond to NBC News' requests for comment Thursday.
Di Filippo became an informant for the Italian police after being arrested in 1995. In return for collaborating, he entered the witness protection program and was given a new identity.
He was no longer involved with the Mafia when his daughter was born. Di Filippo said she had known little about past before watching the show.
"In a few years I would have told her everything," he added.