Bayern face former nemesis as they look to get back on track
Comments
By Reuters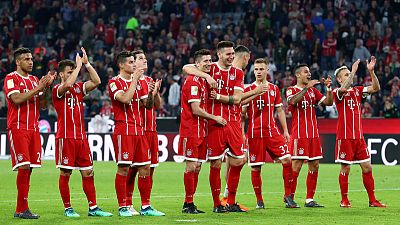 -
BERLIN (Reuters) – Few Bundesliga teams hold much fear for Bayern Munich these days, but if there is one side they have struggled against over the years, it is Borussia Moenchengladbach.
The Foals will be hoping to throw another spanner in Bayern's works on Saturday when they visit the Allianz Arena with a chance to climb above the Bavarians in the table.
Bayern, chasing a seventh successive title, have slumped into a mini-crisis after failing to win their past three games — two in the Bundesliga and one in the Champions League.
Those slip-ups have allowed Borussia Dortmund to go top of the Bundesliga on 14 points, with Bayern and Hertha Berlin on 13 and Gladbach fourth on 11.
"Those who know FC Bayern know that we won't accept this and will do everything to return to winning ways," said coach Niko Kovac after Tuesday's 1-1 draw at home to Ajax in the Champions League.
"We need to roll up our sleeves now; we have to get back to the basics. We need to quickly get back to playing how we did in the first seven games."
Bayern have not gone three league games without a win since the 2010/11 season under Louis van Gaal. But Gladbach have proved one of their most difficult opponents in recent seasons, reigniting a rivalry that was at its most feverish during the 1970s.
Back then, Bayern and Gladbach sharing Bundesliga glory for nine seasons, with five titles for Gladbach and four for Bayern.
But they have enjoyed very different fortunes since. While Bayern went on to dominate the Bundesliga, Gladbach have endured a barren run without a league title since 1977.
Gladbach still have their moments, such as last season's meeting in November, when they handed Bayern their first defeat under Jupp Heynckes.
Bayern also failed to beat Gladbach in the league in the 2014-15 and 2015-16 seasons, with a 1-1 home draw in the latter forcing them to put their title celebrations on hold.
On the other hand, Gladbach have also experienced Bayern's ruthless side and were beaten 5-1 in their most recent meeting last April.
"They have a brutal streak to them and will quickly get back to winning ways," warned Gladbach midfielder Christoph Kramer. "We, of course, hope that we can frustrate them again this weekend.
"We must not fall into the trap of trying to absorb their attacks and only playing long balls, because that won't work for 90 minutes. We've got to play courageously and win possession."
(Writing by Brian Homewood; Editing by David Goodman)