Notorious French gangster on the run for 3 months caught by police
Comments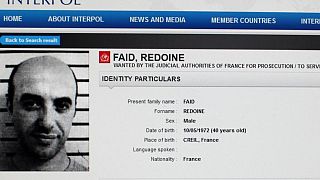 A notorious French gangster, who staged a spectacular escape from prison over the summer, was arrested on Wednesday.
Redoine Faid was stopped by police in the OIse region, north of Paris. He was being tracked by police since July after armed gunmen sprung him from prison with the use of a hijacked helicopter.
Faid was stopped in a pre-dawn raid in the town of Creil, where his family lives. About 50 police officers were deployed in the operation. His brother Rachid, two other men and a woman were among seven arrested in total, according to police sources.
Prosecutor Francois Molin told a news conference police had tapped phones and monitored a woman who transported people, believed to include Faid, to a flat while being covered head-to-toe in burqas.
Faid was arrested at an apartment in Creil at around 4 am, while he was asleep.
Molins said burqas, wigs, and guns were found at the premises. A handgun was located within arm's reach of the sleeping Faid and there was also a second weapon that looked like an Uzi submachine gun.
Speaking to French radio station Europe 1, a neighbour called Malissa said the raid "lasted not even an hour".
"I opened the window and that's where I saw all the police cars and hooded men. It was absolutely noiseless.
"They (police) said they would launch the assault and a little later it was done." She added that there was "no shots, nothing at all".
The fugitive narrowly escaped police in their hunt on July 24, after a chase resulted in the brothers abandoning a car.
The 46-year-old was serving a 25-year prison sentence for an aborted robbery that cost the life of a police officer.
It is the second time Faid has escaped from prison. He was first arrested in 1998 for armed robbery and in 2013 escaped another jail by using explosives to blast his way through five prison doors while holding guards hostage as human shields.
France's outgoing interior minister Gerard Collomb hailed praise to the local police force in a tweet for their "commitment, bravery and determination".
Faid became a household name after writing a tell-all book describing how he was born into a life of crime.
He has previously said he was inspired by films such as Scarface and Reservoir Dogs.