Europe briefing: 5 things to know about today
Comments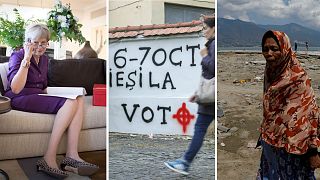 Good morning, Europe. Here are the top stories we're watching this morning:
Serial jailbreaker arrested: Redoine Faid, 46, one of France's most notorious fugitives was arrested in the middle of the night at 4:30 am on Tuesday in his hometown of Creil, located roughly 60km north of Paris. Faid famously escaped jail by helicopter in July. In 2013, he broke out of prison using explosives, blasting out doors and holding several prison wardens hostage.
Indonesia disaster: The death toll on the Indonesian island of Sulawesi rose to more than 1,400 on Wednesday, disaster response officials said. The 7.5-magnitude quake brought down hotels, shopping malls and countless houses in Palu and rescuers are scrambling to find survivors as the search reaches day five.
French interior minister quits: French President Emmanuel Macron is on the hunt for a new interior minister since he accepted the resignation Gerard Collomb, a former Socialist party stalwart who became one of Macron's earliest backers in his presidential campaign. Collomb has stated his intentions to run for mayor in the city of Lyon in 2020. He is the third resignation from Macron's cabinet in six weeks.
EU parliament vote on vehicle diesel caps: On Wednesday, the assembly may set a 45 percent reduction target from 2020 to 2030, significantly deeper than the 30 percent limit proposed. The EU's new rules aim to help meet the bloc's goal of reducing greenhouse gas emissions. If made into law, this may cause a grave disruption to the auto industry, a major employer in the EU.
Tensions rise between France and Iran: France accuses Iran's intelligence ministry of being behind a foiled plot to bomb an exiled opposition group near Paris in June. Iran said it was a misunderstanding. In response, around 200 French police officers raided the headquarters of a Muslim association in Dunkirk on Tuesday in a swoop that French authorities said was part of a "counterterrorism" operation. France said it began freezing assets belonging to two suspected Iranian intelligence operatives, as well as others belonging to Iran's ministry of intelligence and security.
Follow our live updates here: