Straight couples in UK will be allowed to enter civil partnerships, May says
Comments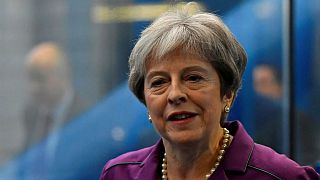 Copyright

REUTERS/Toby Melville
Straight couples in England and Wales will be able to enter into civil partnerships, the prime minister announced Tuesday.
Theresa May said it would mean gay and straight people would have "the same choices in life" — previously same-sex couples could choose between marriage and a civil partnership, whereas opposite-sex couples did not have the latter option.
Currently, heterosexual couples who don't marry in the UK are not entitled to certain financial safety nets including tax exemptions and allowances, inheritance as well as support for children.
May said the reform would provide greater security for couples who did not wish to enter full matrimony but wanted legal recognition.
Martin Loat, Chair of the Equal Civil Partnerships campaign group, said he welcomed the announcement calling it "another important step forward towards civil partnerships for all."
"Legislation would be fair, popular and promote stable families," he added.
The move comes after a high-profile Supreme Court victory for unmarried couple Rebecca Steinfeld and Charles Keidan in June.
The pair won an appeal by arguing that current law was discriminatory as it allowed civil partnerships for same-sex couples but not heterosexual ones.
However, no time frame was given for the change and campaigners were concerned that a consultation might cause delays in making what they see as a straightforward change.
"This is great news and a major step in the right direction, but we will only celebrate when legislation is agreed and the Government confirms the date for when the first different-sex civil partnership can take place," said Loat.