Ryder Cup: Woman loses eye-sight after being hit by a golf ball
Comments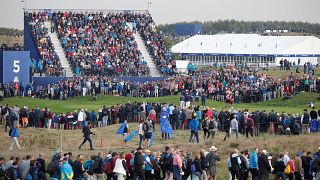 A woman, injured by a golf ball at the Ryder Cup in Paris on Friday, has lost sight in her right eye.
Corine Remande, 49, had travelled from Egypt to watch the golf between the best European and American players when a tee shot sent by American Brooks Koepka in a double match, veered off and went towards the crowd and struck her.
The US Open champion apologised to Remande at the time.
She says she "appreciated the golfer's gesture" when Koepka ran to the spot to apologise. "I was positive with him so that he could concentrate".
"But once I was taken away, I didn't hear anything from the organisers."
According to AFP, she plans to seek legal action and said she wanted to cover her medical costs but also hoped that her lawsuit would improve security "because it's not only about the event itself".
"Clearly, the organisers have a responsibility," said Remande. "The course official didn't shout out any warning when he saw that the player's ball was heading towards the crowd"
"It happened so fast, I didn't feel pain when I was hit, I didn't get the impression that I'd been hit in the eye and then I felt the blood starting to flow."
Remande was transferred late Friday morning to the emergency department of the ophthalmology hospital of Quinze-Vingts in Paris. She was then taken to Lyon where her parents live, as the doctors said she could not fly immediately back to Egypt.
"The scans confirmed (Friday) a fracture of the right eye socket and an explosion of the eyeball" which could be "sewn" back together by the surgeons," she said. 
Her husband, Raphael told AFP, "In the best case, she's been told that she might be able to distinguish shapes once the swelling has gone down in about a month".
The European Tour PGA responded that it was going to "investigate" the incident, which "would take some time".