Kigali's thriving art scene proof of the healing power of culture
Comments
By Clàudia Prat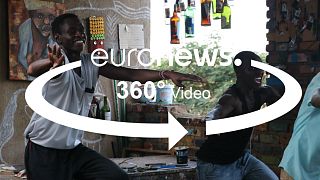 When Rwanda started rebuilding itself after the genocide in 1994, artists had no references. 
The city of Kigali felt completely empty and it wasn't until 2007 when the first art gallery humbly opened its doors in the Kacyiru neighborhood .
In the beginning they had no materials and not even a generation of older artists from who to learn or disagree with. Rwanda was starting from rock bottom, and so was its art scene.
When the Ivuka Arts Center first launched in 2007 it wanted to serve as a base for young people to get together and have a place to exhibit their art work.
Artist Collin Sekajugo who was born in Uganda and has Rwandan roots, conceived the project to contribute to the reconstruction and the healing of the country.
Since Ivuka planted its first seeds in Kigali more than 10 years ago , half a dozen other art galleries have sprouted in Rwanda's capital. Many have followed the same model as Ivuka, offering art and dance classes and a gallery space.
Today a new generation of Rwandan contemporary artists are blossoming and most of their origins can be traced back to this first arts hub.