'Turbulence' in ties threatens U.S.-China security meeting
Comments
By Reuters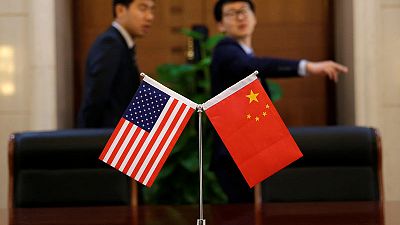 -
By Ben Blanchard and Michael Martina
BEIJING (Reuters) – A key diplomatic and security meeting between China and the United States next month may not take place due to tensions in relations, sources briefed on the matter said, potentially the latest casualty of worsening ties.
Beijing and Washington are locked in a spiralling trade war that has seen them level increasingly severe rounds of tariffs on each other's imports.
Friction between the world's top two economies is now moving beyond trade, with U.S. President Donald Trump accusing Beijing this week of seeking to interfere in congressional elections, marking what U.S. officials told Reuters was a new phase in an escalating campaign by Washington to put pressure on China.
On the military front, China has been infuriated by the United States putting sanctions on the People's Liberation Army (PLA) for buying weapons from Russia, and by what Beijing sees as stepped up U.S. support for self-ruled Taiwan, claimed by China as its sacred territory.
Two Beijing-based diplomatic sources familiar with the plans said U.S. Secretary of State Mike Pompeo and U.S. Defence Secretary Jim Mattis were both due in Beijing next month for the U.S.-China Diplomatic and Security Dialogue, which first took place last year in Washington, a reboot of earlier high-level talks under previous administrations.
However, both sources said that this meeting was now in doubt.
"There is a lot of uncertainty because of the turbulence in the relationship," said one the sources.
The second source said that the People's Liberation Army was especially unhappy with the United States at the moment because of the U.S. sanctions on the Chinese military and U.S. support for Taiwan, including approving a new round of arms sales this week.
"The PLA is fed up over the Taiwan issue. They're increasingly hardline on this," the source said.
Both sources spoke on condition of anonymity as the trips have not been made public. They also cautioned the meetings may still take place as planned, and that no final decisions have been reached.
China's Defence Ministry said it was talking to the United States about the dialogue.
"China and the United States have all along maintained communication about the diplomatic and security dialogue," it said in a statement to Reuters, without elaborating.
China's Foreign Ministry said in a short statement sent to Reuters that the two countries were in "close contact" about the dialogue, and that if it had any other information it would release it in a timely manner.
The U.S. Embassy in Beijing declined to comment, as did the U.S. State Department. The Pentagon said it does not discuss future travel plans.
DECOUPLING?
In his latest broadside on Wednesday, Trump accused China of seeking to interfere in the Nov. 6 U.S. congressional elections, saying that Beijing did not want him or his Republican Party to do well because of his pugnacious stance on trade.
While China has denounced what it called his "slander", it has so far held off taking any direct steps to retaliate.
However, prior to Trump's remarks Beijing cancelled a previously set round of military talks with Washington over the sanctions on China's military, and has denied a U.S. warship permission to visit Hong Kong in October.
The Chinese government's top diplomat, State Councillor Wang Yi, said on Friday there was "no cause for panic" over friction between Beijing and Washington, but warned that China would not be blackmailed or yield to pressure over trade.
President Xi Jinping said this week that, with the rise of unilateralism and trade protectionism, China should embark on a path of self-reliance, a startling aim for a country that has sought to project itself on the world stage and touts the benefits of global free trade.
China had already been trying to reduce its reliance on foreign technology through its Made in China 2025 initiative, though it stopped openly touting the plan earlier this year in the face of blowback from the United States.
"Divorce is the word I use," Tu Xinquan, a trade expert at Beijing's University of International Business and Economics who has advised the Chinese government, told Reuters recently.
"Now, most people believe Trump is trying to contain China. Many government officials think this way."
Last week, Jack Ma, chairman of Chinese e-commerce giant Alibaba, said bilateral trade frictions could last two decades, and that the firm could no longer meet its promise to create 1 million American jobs.
"I think there are leaders in the U.S. government who believe that so long as the Chinese system is not willing to change, then the next best scenario for the United States is a gradual decoupling of the economies," Tim Stratford, managing partner of law firm Covington & Burling's Beijing office and a former senior U.S. trade diplomat, said in a recent podcast.
China has insisted it wants to resolve all its disputes with the United States.
Ruan Zongze, a former Chinese diplomat now with the China Institute of International Studies, a think-tank affiliated with the Foreign Ministry, called it unrealistic to think the two countries could "decouple" considering how inter-connected they were.
"It's like two people having an argument," said Ruan. "Can you really resolve it if you stop speaking to each other?"
(Editing by Tony Munroe and Alex Richardson)