Arctic heatwave could result in summer-like warmth for Alaska
Comments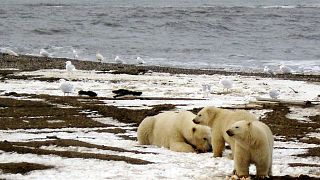 A high-pressured western ridge has positioned itself near Alaska, allowing record-breaking warmth from the North Pacific to spread over the Arctic. 
A ridge, in weather terms, is defined as an elongated area of relatively high pressure extending from the center of a high-pressure region.
Climate scientist Zack Labe told Euronews this phenomenon could cause temperatures to rise over 10°C above average in some areas of Alaska, making the climate feel equivalent to late-summer. Labe believes this pattern will likely slow the progression of sea ice refreezing in the western Arctic.
"The remnants of Typhoon Trami (which is currently battering southern Japan) along with the unusually warm sea surface temperatures in the North Pacific and the Bering Sea, are likely to contribute to the strength and persistence of this weather pattern," says Labe.
These recent weather transformations are also impacting maritime transit. Earlier this month, the Danish cargo ship Venta Maersk, became the first ship to navigate the Northern Sea Route, which runs from Alaska along the Siberian coastline and was thought previously to be unpassable.
Due to warming ocean temperatures, sea ice has diminished to the point where it could be possible for global shipping to use this shortcut between the months of July to October. 
Experts say the Northern Sea Route could cut transit time by 10-15 days by reducing the travel distance from east Asia to Europe from the 21,000 kilometres, via the Suez Canal, to 12,800 kilometres.
Last weekend, the Climate Prediction Center (CPC) predicted significantly warmer temperatures for northwestern Alaska during October backed by 85% confidence. 
According to Rick Thoman, climate science and services manager for the National Weather Service in Alaska, it's the first time in recorded history that the CPC has issued a probability forecast above 80%.
Friday, September 28, was another record-breaking temperature day in Anchorage, Alaska, where it hit a record 16°C in the city. Other Alaskan towns of Bethel and King Salmon also saw record high temperatures Friday according to the National Weather Service Anchorage.
Conversely, a conduit for colder temperature anomalies has developed off the eastern side of the high-pressure ridge, effectively pushing seasonal air further south. This has caused parts of Canada to experience unprecedented amounts of September snowfall. Canada's western province of Alberta is expecting upwards of 20cm of snow in the coming days.