Erdogan calls for extradition for Gulen and Dundar during meeting with Merkel
Comments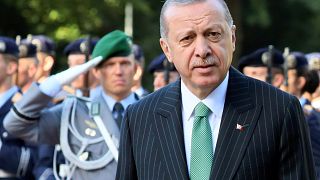 Turkey's President Recep Tayyip Erdogan and German Chancellor Angela Merkel hope to ease tensions between their countries at a meeting on Friday during a three-day visit.
Here are some of the top topics from the joint press conference:
Human rights
Can Dundar, one of the Turkish journalists most critical of Erdogan, decided not to attend the news conference in the end.
Turkey's highest court ruled in March that Dundar should have been sentenced to up to 20 years in prison on espionage charges. The former editor of opposition newspaper Cumhuriyet. Erdogan described him as an agent who had been convicted of espionage.
Germany has been one of the fiercest critics of Erdogan's crackdown on journalists and political opponents, and if Dundar attended the news conference, Merkel would be sending a message to her guest to clean up his human rights record.
Extradition requests for Dundar and Gulen
At the conference, Erdogan said Turkey has the 'natural right' to request the extradition of Dundar, but he also urged Germany to extradite cleric Fethullah Gulen, who resides in Germany, and his hundreds of supports whom he blames for a 2016 attempt coup.
The vast majority of Gulen supporters are accused of having links to the so-called Gulen movement, which the Turkish government has branded a terrorist organisation called "FETO."
However, Merkel said she would need more proof before doing anything.
We take very seriously the evidence Turkey provided but we need more material if we are to classify it in the same way we have classified the (Kurdish) PKK," she told reporters.
Meeting over Idlib in October
Merkel said there will be a meeting in October with Erdogan, Russian president Vladimir Putin and French president, Emmanuel Macron over Idlib, Syria, the last rebel stronghold.
Merkel said on Thursday she wanted to improve economic ties with Turkey but would raise human rights with Erdogan. The fate of German prisoners in Turkey will also be on the agenda.
Erdogan started his state visit with military honours at the Bellevue Palace where he held talks with President Frank-Walter Steinmeier.
He is eager to secure German investments to shore up an economy feeling the burden of heavy foreign debt load. The Turkish lira slid by 40% this year.
Additionally, Erdogan said Turkey is to swiftly complete six articles for visa liberalisation with the EU.