Trump support for Supreme Court nominee wavers
Comments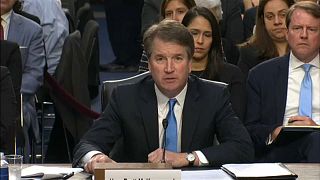 President Trump has wavered in his support for his Supreme Court nominee Brett Kavanaugh, on the eve of a high profile hearing.
Christine Blasey Ford, who has accused Kavanaugh of a sexual assault in 1982, is scheduled to testify before lawmakers.
Trump was put on the spot during a press conference when a reporter asked him if there was a scenario under which he would withdraw Kavanaugh's nomination:
"If I thought he was guilty of something like this, yes, sure," replied Trump.
The reporter then asks Trump is he will wait to make up his mind to which Trump responded:
"I want to watch. I want to see. I hope I can watch."
A third woman, Julie Swetnick, has now accused Kavanaugh of aggressive sexual behaviour in the 1980s. There are reports of a fourth as yet unidentified.
Until now Trump has dismissed the allegations and is still hoping for Kavanaugh to be confirmed for the lifetime appointment on Friday. But Democrats and protesters are calling for that vote to be delayed until all the accusations have been investigated.