Europe briefing: Six stories to know about today
Comments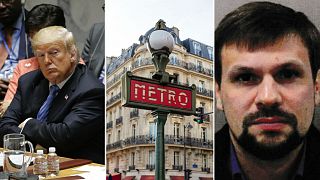 1) Trump says he could change position on US Supreme Court nominee Kavanaugh
US President Donald Trump said he could withdraw his support for Brett Kavanaugh depending on the testimony at Thursday's hearing into multiple accusations of sexual misconduct against the Supreme Court nominee. A third woman has accused Kavanaugh of aggressive sexual behaviour in the 1980s. The nominee has denied all of the allegations so far.
2) Abhilash Tomy says he survived at sea because of his 'sailing skills'
Speaking on behalf of Abhilash Tomy, the Indian Navy's Twitter account said the Indian sailor had survived being stranded on the ocean thanks to his "sailing skills" and "naval training". Tomy became stranded 3,200 km off of the coast of Western Australia after his boat was severely damaged during a storm on September 21. He's currently undergoing medical treatment on Amsterdam Island, a French territory in the Indian Ocean. After initial treatment for his back injuries, he's expected to be transferred to an Australian naval ship. Tomy, whose website says he became the first Indian to circumnavigate the globe in 2013, was a contestant in the gruelling 48000 km Golden Globe Race.
3) Slovak police detain suspects over journalist murder
Slovakian police have detained people suspected of the murder of investigative reporter Jan Kuciak and his fiancee, according to local media reports. The news was confirmed by a lawyer for the family of Kuciak who wrote on Facebook that "in the early morning hours today police detained suspects in the murder of Jan Kuciak and (his fiancee) Martina Kusnirova." The lawyer told Reuters by text message that he had been briefed by prosecutors —but it was not immediately clear how many people were being held. Kuciak had written about political corruption in Slovakia in the past and was found dead with Kusnirova at their home outside Bratislava in February.
4) Australia raises jail terms for food tampering after strawberry scare
The Australian government increased the jail term to 15 years for anyone convicted of contaminating food after needles were found in strawberries and other fruits. Police are still investigating more than 100 reports of sewing needles found in strawberries. Australia also criminalised hoax claims by making them punishable by up to ten years in prison. Strawberry farmers have welcomed the action, arguing they faced financial ruin if public trust in the strawberry industry was not recovered quickly.
5) Trump accuses China of election meddling
US President Donald Trump on Wednesday accused China of seeking to meddle in the November 6 US congressional elections, saying Beijing did not want his Republican Party to do well because of his stance on trade. However, he provided no evidence for his allegation about China. The Chinese delegation immediately rejected the accusation during the meeting.
This is how we covered key developments this morning: