Europe briefing: 5 stories to know about today
Comments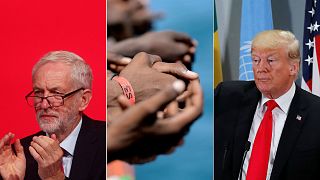 1) American TV icon Bill Cosby gets three to ten years in prison for sexual assault
American TV icon Bill Cosby was sentenced to three to ten years in prison for sexual assault. Cosby marched out of the courtroom in shackles after a judged branded him a "predator" and gave him his sentence. The 81-year-old actor was found guilty in April of three counts of aggravated indecent assault for drugging and assaulting Andrea Constand at his Philadelphia home in 2004.
2) Divide between eastern and western Germany persists 30 years after the fall of the Berlin wall
Eastern Germany's economy is still trailing behind that of western Germany nearly 30 years after the fall of the Berlin wall, said a new report. The 'Unity' study by the German government showed that wages are still far lower in most eastern states when compared to the west. Later on Wednesday, the German government will underline its commitments to boost economic capacity in the east of the now unified nation. It is expected to announce investments from infrastructure to industry in order to lure western companies to the east.
3) Corbyn's "green jobs revolution"
Jeremy Corbyn will close the Labour Party conference in Liverpool with a speech where he's expected to promise a "green jobs revolution" for the UK economy by making investments in offshore wind turbines, home insulation projects and solar panels for every home. According to the Labour leader, the economic shift should create up to the 400,000 new positions. Other pledges Corbyn's expected to make include expanding the free childcare scheme to more parents.
4) Acapulco police force under investigation for suspected crime links
Mexican marines seized control of Acapulco's police force on Tuesday under suspicion of links to organised crime. They arrested two officers accused of homicide and seized weapons and equipment. Other members of Acapulco's police force are under investigation as well, military personnel said in a statement but did not specify how many.
5) French minister compares Italy's Salvini to Pontius Pilate over Aquarius migrants row
French European Affairs Minister Nathalie Loiseau told French radio that Italian Interior Minister Matteo Salvini was behaving "like Pontius Pilate" (the Roman official known biblically for condemning Jesus Christ to death) over his treatment of migrants. Loiseau made the latest comments regarding the Aquarius migrant situation on French radio station RTL on Wednesday. Migrants aboard the charity rescue ship will be taken to Malta where they will be distributed among four member states — France, Portugal, Spain and Germany.
This is how we covered key developments this morning