Anti-Kremlin activist says he thinks Russian secret service poisoned him
Comments
By Reuters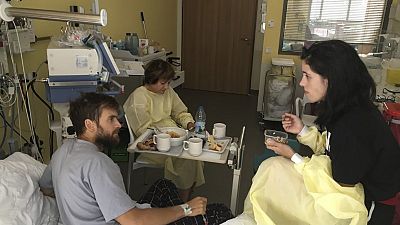 BERLIN (Reuters) – Anti-Kremlin activist Pyotr Verzilov, recovering in Berlin after suddenly losing his sight, hearing and ability to walk in Russia, has told a newspaper he believes he was poisoned by Russia's secret service.
Verzilov, publisher of a Russian online news portal with close ties to punk protest group Pussy Riot, fell ill two weeks ago in Moscow and was flown to Germany for urgent treatment.
Doctors at Berlin's Charite hospital have found no traces of poison in his body but say there is no other explanation than poisoning for his condition.
"I firmly believe that the Russian secret service is behind my poisoning, possibly Russia's GRU military intelligence," Verzilov told Bild newspaper in his first interview since being taken into the Charite.
"The poisoning was carried out so professionally that no other conclusion is possible."
He said the secret services might have tried out a new poison cocktail on him, judging by the speed with which it took effect.
"It didn't take several days until I noticed something – it was acute immediately. I don't have any memories of the following days," he said.
Verzilov is known in Russia for protest stunts including briefly invading the pitch during the World Cup final in Moscow this year.
He told Bild he had wanted to investigate the killings of Russian journalists Orhan Dzhemal, Alexander Rastorguyev and Kirill Radchenko in the Central African Republic in July.
"That could be why the secret services wanted to poison me," he said. "I think that is a more likely reason than the World Cup initiative."
Verzilov said he wanted to go back to Russia, adding: "I'm doing well now and I hope that I will be discharged as quickly as possible."
Activists and security services are on high alert for poison attacks with origins in Russia following the poisoning of former Russian double agent Sergei Skripal and his daughter Yulia in Britain earlier this year, blamed by London on Moscow.
They survived, but a British woman died after coming into contact with poison believed to have been thrown away by the Skripals' attackers.
(Reporting by Michelle Martin; editing by Andrew Roche)