Italy publishes report blaming Autostrade for failings in bridge collapse
Comments
By Reuters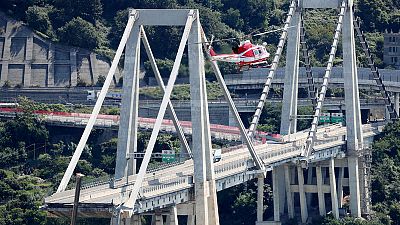 -
ROME (Reuters) – Italy published a report on Tuesday into road operator Autostrade per l'Italia's role in last month's deadly bridge collapse, laying out evidence that Rome is expected to use to strip the company of its concessions to run Italian motorways.
The report said Autostrade had failed to assess the safety of the Genoa bridge, where a viaduct collapsed on Aug. 14, killing 43 people.
The government has blamed Autostrade for serious oversights and said it wants to revoke all its Italian motorway concessions.
Tuesday's report by a committee at the Transport Ministry said Autostrade had been unable to deal with issues arising from the ageing of the infrastructure it operated. It said that 98 percent of the investment to reinforce the bridge since 1982 had been spent before Autostrade was privatised in 1999.
Autostrade, which is majority owned by Atlantia, a holding company controlled by the wealthy Benetton family, had no immediate comment.
Autostrade runs nearly 3,000 kilometres (2,000 miles) of highways in Italy and accounted for 68 percent of its parent company's core earnings in the first half of this year.
Shares in Atlantia turned negative after the publication of the document, falling 0.7 percent at 1408 GMT.
Rome has said it does not want Autostrade to play a role in rebuilding the bridge. A judge on Tuesday ruled rebuilding of the bridge could not start for at least two months to allow experts to complete site inspections.
(Reporting by Stefano Bernabei in Rome and Paola Balsomini in Genoa; writing by Francesca Landini; editing by Valentina Za)