Europe needs a budget to counter populism's ascent - Moscovici
Comments
By Reuters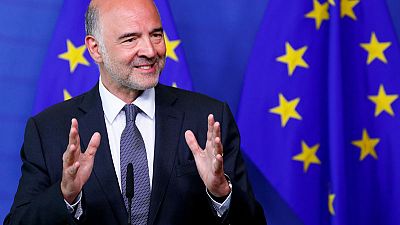 -
By Daniel Bases
NEWYORK (Reuters) – The European Union's answer to stop a rise of populist politics within its borders must start with a budget to help bind its members closer together and address economic inequality that tears at its seams, one official said on Tuesday.
"Having a euro zone budget is absolutely decisive if we want to address the populist challenge, the burning question of inequalities," European Union economic affairs commissioner Pierre Moscovici said in an interview on the sidelines of the United Nations General Assembly.
"I am very concerned about (populism). I think that is a major threat for our democracies, for liberal democracies, for the rule of law and for European values. To address that we need to make progress in European integration," Moscovici said after a talk at the European American Chamber of Commerce New York.
Establishing a euro zone budget would help support reforms and strengthen convergence between its economies to help address how financial stress points unequally affect member states.
Even amid the strains, Europe's economy has stabilized. Economic growth is expected to hold at around 2 percent in both 2018 and 2019, Moscovici said.
"The European crisis is no more an economic crisis. It is an inequality crisis. It is a political crisis. It is a crisis of delivery. We need to deliver more. That is what euro zone reform is about. It is not technical. It is highly political," Moscovici said.
Populist politics in Italy, for example, threaten Europe's third largest economy falling foul of EU finance rules and further straining the union.
The leaders of the parties in Italy's government, the far-right League and the anti-establishment 5-Star Movement, have been promising since forming their coalition in June to spend more and tax less, unnerving markets as well as authorities in Brussels.
Rome is due to submit its budget by Oct. 15. Italy already has a debt of 132 percent of GDP, the second highest in the euro zone, and feeding that with a high deficit would fuel market concern about its ability to repay.
"The ball is in their camp," Moscovici said. "My message is that their interest, not only their duty but their interest, is to reduce the structural deficit" and in turn their public debt so they can develop investment in the economy.
Moscovici, asked to explain why he saw the balance of risks tilting to the downside for what remains a "solid and robust" economic environment,said:
"Trade wars are just creating a lose-lose situation," adding: "It is an absurdity and it is a major threat or the major downside risk to the world's economic growth".
(Reporting by Daniel Bases; Editing by James Dalgleish)