Swiss canton votes to ban burqa in public
Comments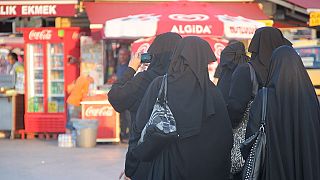 -
Voters in the Swiss canton of St Gallen voted this weekend to ban facial coverings, including Islamic veils such as the burqa and niqab, in public spaces.
The law was approved by 66.65% of voters, but turnout only reached 35.8%. 
The northeastern canton of St Gallen becomes only the second out of 26 cantons to do so, after Ticino, in the south, introduced a similar law in 2016.
The new legislation states that "any person who renders themselves unrecognisable by covering their face in a public space and thus endangers public security or social and religious peace will be fined".
The Islamic Central Council of Switzerland condemned the ban as "another sign of the social Islamophobia that is rampant" in the country.
In a statement issued on Sunday, it recommended that women continue wearing full-face veils, arguing that the wording of the law means police officers will have to use their discretion to determine whether a person whose face is hidden is a threat to the public.
It also said that it will closely monitor the situation and consider legal action if necessary.
Burqa bans around Europe
The question to ban or not the Islamic full-face veil has divided the European Union.
An outright ban in public places has been implemented in Austria, Bulgaria, Denmark, France and Latvia.
Other countries have implemented partial or local ban. In Germany, Bavaria is the only out of 16 states to have introduced a ban in public institutions including schools and the civil service.
The Swiss government opposed a nation-wide burqa ban last year, arguing it was up to the different cantons to legislate. Three cantons have voted against introducing such measures in recent years, including Glarus, Solothurn and Zurich.
But a national referendum is expected to be held in 2019 after the right-wing Swiss People's Party gathered more than 100,000 signatures for the ballot. Under the country's direct democracy model, a referendum must be held if 100,000 signatures backing a motion are collected within an 18-month period.