Who will come out on top in Maldives election - and are the polls fair?
Comments
By Reuters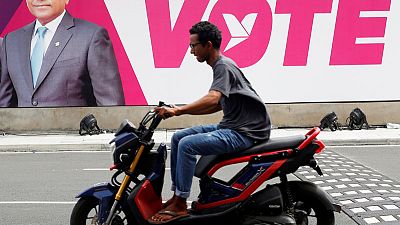 -
(Reuters) – More than a quarter of a million people will vote on Sunday for the next leader of the small Indian Ocean nation of the Maldives in an election criticised internationally for a lack of transparency and suppression of government critics.
Restrictions on the media and alleged changes to voting practices have also raised questions over the fairness of the poll and created uncertainty over the post-election situation in the islands, best known as a luxury holiday destination and a key state in the battle for influence between India and China.
WHOHASTHEEDGE IN THEELECTION?
With no opinion polls, calling a winner is difficult.
Non-government organisations and diplomats who have travelled to the country say opposition candidate Ibrahim Mohamed Solih (Ibu), pledging greater democracy and a corruption crackdown, would be likely to win if there were free and fair elections.
President Abdulla Yameen, who is seeking a second five-year tenure, is campaigning on a promise to boost the economy in a Chinese-backed infrastructure drive – a vote-winning strategy, say his supporters.
But his government has locked up scores of popular leaders who backed him in the 2013 polls including his half-brother, former president Maumoon Abdul Gayoom, who ruled the country for 30 years.
Gayoom's wife posted a video on Thursday urging voters to "end this tyranny" and supporters of all the jailed leaders are expected to vote against Yameen, though that may not be enough to defeat him.
HASTHEELECTIONCAMPAIGNBEENFREEANDFAIR?
Along with the jailing of opposition leaders for various reasons after speedy trials, Yameen has made several appointments activists say make a free and fair election difficult.
He annulled a Supreme Court ruling that quashed the convictions of nine opposition leaders, including former president Mohamed Nasheed, the country's first democratically elected leader, sparking a political crisis in February.
He then appointed a new chief justice after removing his predecessor for ordering the releases, sacked two police chiefs and enacted laws in parliament without a required quorum.
Diplomats say Yameen's action in the last 18 months have been aimed at removing any barriers to winning the election.
HOWABOUTTHEELECTIONMONITORS?
Many international organisations including the European Union have declined the offer to visit and monitor the election, fearing they might be used as a tacit endorsement to Yameen if there are voting irregularities.
The Elections Commission has said 61 international monitors are expected, but they have not said who they will be. Locally they expect more than 2,000 monitors, but observers have expressed concern over new vote-counting rules they say will prevent them from seeing individual ballot papers – a charge the government denies.
WHATABOUTINTERNATIONALPRESSURE?
Backed by China and Saudi Arabia, Yameen has so far been able to resist international pressure to free his opponents over the last two years – though he did allow former president Nasheed to leave jail in 2016 for medical leave in Britain, where he claimed asylum.
That could change in the future, however: the European Union and the United States have both warned of possible sanctions against Yameen and his allies if the upcoming elections are not free and fair.
WHATWILLHAPPENAFTERTHEELECTION?
Most analysts and diplomats expect a chaotic situation with the loser not accepting the result. If Yameen loses, the opposition expects him to declare a state of emergency, use the Elections Commission and the Supreme Court to annul the poll and either call for a fresh election, or change the constitution to extend his term. Opposition candidate Ibu could also face arrest, they add.
Even if Yameen loses, he will be the president until Nov. 17 this year, according to the constitution.
If Ibu loses, the opposition is expected to protest across the country, but diplomats expect Yameen to use a state of emergency, police, and the military to control any such protests.
(Reporting by Shihar Aneez in COLOMBO and Mohamed Junayd in MALE, editing by Alasdair Pal and Sanjeev Miglani)