'The process stinks' - doping body facing outrage as Russia vote nears
Comments
By Reuters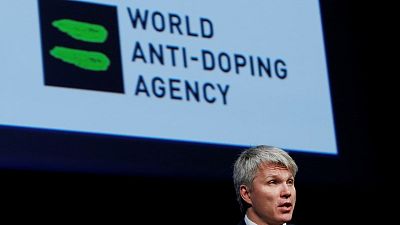 -
By Steve Keating
(Reuters) – The World Anti-Doping Agency will vote on Thursday on whether to lift its ban on Russia, in the face of outrage and revolt from athletes and the anti-doping establishment after its advisory committee recommended Moscow be let back in.
WADA, which is the main global body tasked with preventing doping in sport, suspended Russia's anti-doping agency RUSADA in November 2015 after a WADA report outlined evidence of state-backed, systematic doping in Russian athletics.
The allegations, which Moscow has denied, led to Russia being banned from this year's winter Olympics, where Russian athletes were permitted to compete under the Olympic flag.
WADA's compliance committee recommended lifting RUSADA's suspension last week, even though critics say Russia has still failed to meet steps laid out in a roadmap, including acknowledging the findings of the WADA-commissioned report and allowing access to urine samples.
"The process stinks and its been extremely shady how its gone about," Travis Tygart, head of the U.S. Anti-Doping agency (USADA), told Reuters Television.
"And then substantively you look at the decision and there's been no fulfilment of the two remaining conditions," he said. "It's why you see outrage by athletes all around the world right now at the possibility that Russia could be reinstated under these circumstances."
Norway's Linda Helleland, the WADA executive board's vice president, became on Wednesday the most senior official at the body to make clear she would vote against reinstating Russia.
"I can see that progress is made and I acknowledge the efforts done by RUSADA, but as long as the McLaren report is not acknowledged and WADA still has no access to the laboratories, I will vote against the reinstatement of Russia," said Helleland in a statement.
But all that is required to bring RUSADA back from isolation is a simple majority from the 12 voting members. In case of a tie, WADA said the deciding vote would go to the chair, WADA president Sir Craig Reedie.
National anti-doping bodies from around the world, including from the United States, Britain, Canada and Australia, issued a joint statement on Tuesday urging WADA not reinstate RUSADA.
Double Olympic gold medallist Edwin Moses, chairman of the United States Anti-Doping Agency and Chair of the World Anti-Doping Agency's Education Committee, said in an opinion article for the New York Times that WADA's credibility rides on the Russia decision. The Toronto Star, Canada's largest daily newspaper, delivered a scathing editorial.
"Clean athletes have, once again, been betrayed by a system that is doing far too little to ensure a level playing field. If this plays out as now expected on Thursday, with WADA's executive accepting the committee's recommendations, it will be another terrible day for Olympic sport."
(Editing by Peter Graff)