Boy arrested in Australian strawberry needle scare, PM Morrison calls for tougher penalties
Comments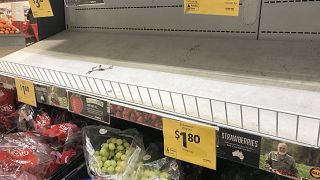 A boy in New South Wales has been arrested after "admitting to a prank" involving placing needles in strawberries.
Police believe there is likely more than one perpetrator involved in Australia's ongoing strawberry saga, including multiple cases of hoaxes.
"Obviously in the last few days we found a young person has admitted to a prank, including putting needles in strawberries," said NSW Acting Assistant Commissioner Stuart Smith. He went on to say the boy would be dealt with under the youth cautioning system.
Police received the first report of a needle found in a strawberry in Queensland on September 12 and are now dealing with more than 100 reports of contaminated fruit throughout the country.
This has resulted in select strawberry brands being taken off shelves throughout Australia and New Zealand. Police have also received reports of contamination of other types of fruit, including a banana and an apple, which are being treated as isolated incidents.
NSW Police are urging anyone who has purchased contaminated products to take them to their local police station immediately for triage and forensic examination.
Health officials have advised people to cut strawberries up before eating them. Queensland's chief health officer says the fruit is still "a great product to eat" but advises consumers to be extremely cautious.
The Liberal-National Government of Australia said via a press release that they are acting to increase penalties on "cowards" who commit these crimes. They want on to say their priority is to keep Australians safe and support the farmers whose livelihoods have been put at risk.
Currently, offenders caught contaminating food products face a maximum sentence of 10 years in prison. However, Prime Minister Scott Morrison said he supports a plan to increase that maximum sentence to 15 years behind bars.