Mourinho: Artificial pitch no excuse, United must beat Young Boys
Comments
By Reuters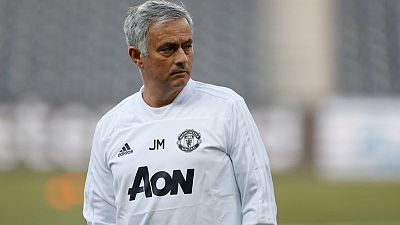 -
(Reuters) – Manchester United will not be using the artificial pitch as an excuse if they fail to beat Swiss side Young Boys in Bern in their Champions League opener, manager Jose Mourinho said on Tuesday.
United begin their European campaign on their hosts' synthetic pitch on Wednesday, and Mourinho referenced Swiss tennis great Roger Federer's ability to adapt to different playing surfaces as an example of how his team should rise above the conditions.
Federer, a 20-times Grand Slam champion, has won tournaments on every playing surface in his sport, and Mourinho spoke of his admiration for the Swiss player's adaptability.
"I don't want to use (the artificial pitch)… as a possible excuse for a poor performance," the Portuguese told a news conference.
"Everybody knows it is different but … We are in Switzerland, the home of one of the best ever tennis players, and I'm pretty sure the big man sometimes is not happy to play on such a surface but he has to play and he has to win.
"Everybody knows he has a favourite surface, but he has also to win on other surfaces. So we have to do it."
United go into the match in good spirits having recovered from a shaky start to the domestic season by winning their last two league matches. Mourinho said his team's 3-0 humbling by Tottenham Hotspur last month had been a turning point.
"I think we are improving. We've found a certain balance in the team," he added.
"We managed to win two difficult away matches which was important for us, so I'm happy but I was happy after the Tottenham defeat… with many of the things that I saw. That game was the beginning of our improvement."
Full back Antonio Valencia, who is suffering from a persistent knee complaint, has been left in Manchester, with Luke Shaw set to start in his place.
"Valencia is the only man who needs protecting from this situation. He has a clinical situation, but apart from that we go with everything we have," Mourinho said.
For all the optimism over United's recent revival, Mourinho would not be drawn on how he thought his side would do in Europe's elite club competition this season.
"I think it's premature to talk about our chances when we haven't even played our first match," he added. "Our focus is on tomorrow and after that it will be on the rest of the group phase. Our focus must be on qualifying.
"I always say that when a team reaches a quarter-final you smell that the distance is not very far. But it's too early."
United and Young Boys have been drawn in Group H, alongside Italian champions Juventus and Spain's Valencia.
(Reporting by Simon Jennings in Bengaluru; Editing by Hugh Lawson)