Archaeologists discover ancient sphinx in Egyptian temple
Comments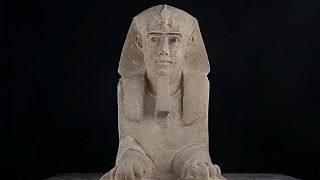 Egyptian archaeologists in the southern city of Aswan have uncovered a sandstone sphinx which likely dates back to the Ptolemaic era, according to Egypt's Antiquities Ministry.
The Ptolemaic era lasted from 305 BC to around 30 BC in Egypt.
This unexpected discovery was made by an Egyptian archaeological mission draining water in a temple to reduce the groundwater level.
The Sphinx, a mythical being with the head of a human and the body of a lion, was discovered at the Kom Ombo temple, where two engraved sandstone reliefs of King Ptolemy V had also recently been found.
The statue of the mythical beast measures about 28-cm wide and 38-cm tall.
Abdel Moneim Saeed, general director of the Aswan and Nubia antiquities council, said the mission will conduct more archaeological studies on the Sphinx statue for more information on its history and the king who owned it.