Parisians enjoy the Champs Elysées sans traffic
Comments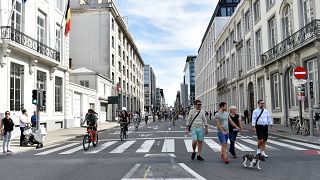 Last Sunday in Paris, at the tail end of the summer, the city's most famous avenue became blissfully free of traffic.
Parisians on the Champs Elysees breathed a sigh of relief, as well as fresher air, and walked, cycled, rollerbladed and skated down their fabled street.
The car was no longer king, well at least for one day in the year, and that made many people very happy.
"The atmosphere is very unique, it reminds me of some movies, we see things that are a bit futuristic, but maybe that the future is being written right now," said one Parisian man, out for a stroll.
Of course not everyone was happy; Parisians do use cars for very good reasons after all.
"It's scandalous, the way it is organised. We can conduct policies, but this is a crappy policy," said one elderly driver blocked by the police cordon.
"Car free days" gained popularity in the 2000s, particularly in highly polluted cities such as India's capital New Delhi, but the movement has lost momentum in recent years.