Strong start bodes well for Spurs' title hopes, says Lee
Comments
By Reuters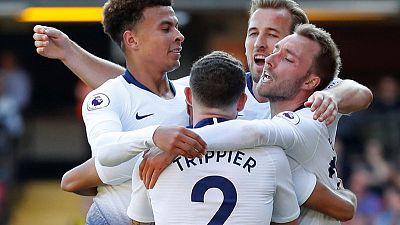 By Michael Church
HONGKONG, Sept 14 (Reuters) – Former Tottenham Hotspur defender Lee Young-pyo is backing his old club to mount a serious challenge for the Premier League title, with the return of fellow South Korean Son Heung-min to bolster the side after their strong start.
Spurs, who won their first three games of the new campaign before slipping to a 2-1 defeat to Watford, resume their bid for a first league title since 1960-61 when they take on high-flying Liverpool at Wembley on Saturday.
Mauricio Pochettino's side will be boosted by the return of Son, who was not featured since mid-August after joining South Korea for the Asian Games, and Lee is confident Tottenham are in a strong position.
"I'm always watching and focusing on Tottenham because they're my old team and this season has been a great start," Lee, who played for Tottenham for three seasons from 2005 to 2008, told Reuters.
"The last few seasons the start hasn't been good but this season with three wins to start is great. And they have Son Heung-min to come back and he will bring more power for them.
"This is a great chance for Spurs. Some people have complained that there have been no new players but it makes for a better combination because they know each other and this is great for them."
Son returns to the squad having helped his country win gold at the Asian Games, which secured the 26-year-old an exemption from military service that could well have damaged his football career.
"The army is important for our nation, but two years out of football finishes your career," said Lee, who earned his own exemption as part of the South Korean squad that reached the 2002 World Cup semi-finals on home soil.
"It's very important for Son Heung-min, for his career, our national team and for Tottenham."
Lee believes the current Korean crop led by Son can build on their success at the Asian Games — an under-23 tournament which permits three over-age players per team — when they play in the more demanding Asian Cup in the United Arab Emirates in January.
"In that age group, when they play in Asia they always become champions, they are strong," Lee said of their Asian Games triumph.
"But our target is not Asia, we need to go to the Olympics and the World Cup. This team isn't bad but not at the level of our generation. We need to wait and see.
"Every single time we have a great chance to get the title in the Asian Cup, and in the UAE, it's also a great chance they can do it. And I'm confident they can do it this time."
(Reporting by Michael Church; Editing by Ian Ransom)