Riot police clash with environmental activists in Germany
Comments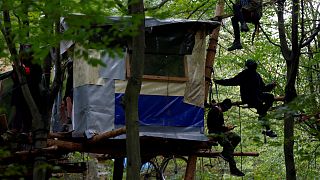 Copyright

REUTERS/Thilo Schmuelgen
Police in Germany started to forcibly remove protesters on Friday from a site earmarked for mining.
Wearing helmets and carrying shields, they used a hydraulic platform mounted on a truck to force activists from the treehouses erected in Hambach forest, west of the city of Cologne.
Authorities described the treehouses, built by activists to protect the site from potential coal mining, as a safety risk.
Officers carried off some of the protesters who were trying to prevent utility RWE from clearing the forest that it bought decades ago to expand mining in the area. Most of the forest has already been chopped down and the activists were trying to save a remaining patch of green.
The activists had asked RWE to delay the logging until a year-end deadline for a commission to submit plans to the government for Germany to give up coal-fired energy.