No end in sight for 'Scallop Wars' as talks collapse | The Cube
Comments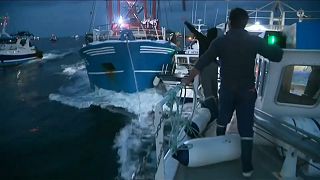 The so-called Scallop War between Britain and France is in danger of being re-ignited after France's Agriculture Ministry reported Wednesday that talks to resolve the dispute had broken down.
French fishermen want their British counterparts to, like them, refrain from fishing for scallops on waters between France and the UK until October 1, even though the Brits are entitled to fish all year-round.
"Scallops are a flagship product for Normandy, a primary resource and a highly sensitive issue," said Normandy fishieries chief Dimitri Rogoff.
The dispute led to a clash of boats last month, when 35 French vessels swarmed five British craft in the Baie de Seine, 22km off the Normandy coast.
Reports emerged that stones and smoke bombs were thrown, prompting Britain's National Federation of Fishermen's Organisations to demand government assistance.
"We have raised the matter with the British government and asked for protection for our vessels, which are fishing legitimately," its chief executive, Barrie Deas, told AFP.
"The deeper issues behind the clashes should be settled by talking around the table, not on the high seas where people could be hurt."