Hitler salute wolves erected in Chemnitz after far-right protests
Comments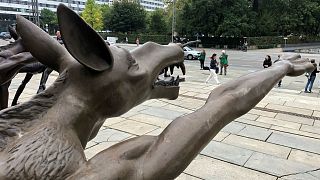 Copyright

REUTERS/Tobias Schle
Bronze statues of wolves performing the Hitler salute were erected in Germany's eastern city of Chemnitz on Thursday to protest "increasing hatred" in the area.
The 10 figures, designed by German artist Rainer Opolka, were put on display in front of Chemnitz's Karl Marx statue on Thursday morning and remained there for around nine hours.
Their arrival in the city followed far-right protests there in recent weeks, sparked by the death of a German man who was allegedly killed by two migrants.
A 33-year-old man was sentenced on Thursday to eight months' probation and handed a fine of €2,000 for making the Hitler salute during the demonstrations.
A Facebook page for the exhibition said the statues were being displayed "to protest against increasing hatred and violence".
The idea for the installation came from Nazis and right-wing radicals describing themselves as "wolves", it added.
Opolka, who self-funded all costs of the exhibition, said the reaction to the wolves had been largely positive.
"Some people brought me a cake or even coffee. Classes of schools came and it was very positive. But of course there were also some people, maybe 10%, who said I'm the problem... and that I am a Nazi," he told Euronews.
Opolka has previously displayed the wolves in other German cities, including Berlin and Dresden.
"It often takes four trucks, five people... I want to do it much more often but my power is limited," he said.
He added that he hopes people who saw the exhibition took away the message that radicalism is never the answer.
"All kinds of radicalism is what we don't need anymore, it won't bring any solution. What we need is a debate against hate and violence," he said.
Earlier this month, some 65,000 people attended an anti-racism concert in Chemnitz to counter the far-right protests in the city.