Evacuate or stay? For nursing homes in storm's path, decision isn't easy
Comments
By Elizabeth Chuck with NBC News U.S. News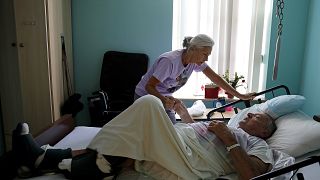 Copyright

David Goldman AP

-
At Trinity Grove, a 100-bed skilled nursing facility in Wilmington, North Carolina, residents will be riding out Hurricane Florence — despite widespread evacuations triggered by the Category 3 storm, which could potentially deliver a historic blow to the Carolinas.
Trinity Grove has food and water, and a 750-megawatt generator that can keep the entire building running, said Ted Goins, president and CEO of Lutheran Services Carolinas, which operates Trinity Grove as well as other skilled nursing facilities throughout the state.
But the decision to keep the elderly residents where they are instead of evacuating them wasn't an easy one.
"We're still wrestling with it. It's a hard decision to make, and there's plenty of people that would second-guess no matter which decision you make," Goins said. "Lives are at stake, so we don't take it lightly."
Given their residents' age and feebleness, nursing home staff decided that hunkering down was best: The seven-year-old building that houses Trinity Grove was built "in anticipation of today," Goins said, explaining that it's on high ground and that the roof was built to withstand high winds.
But residents there have never been through anything like this. They have never had to even consider evacuating.
"This is our first real test. North Carolina has been spared for years, so we have never had an event like this," Goins said. "But again, I keep getting back to, this is why we built the kind of building that we built — for this day."
As health care facilities, nursing homes sometimes have the option to not abide by evacuation orders if they feel it is not in the best interest of their patients and have an alternate emergency shelter-in-place plan, according to Dr. David Dosa, a geriatrician at the Providence VA and a health services researcher at Brown University. And past studies have shown that in some cases, evacuating can cause more harm than good.
Dosa was the lead author of a 2011 study that found that evacuating nursing home residents can have a significant, and sometimes deadly, impact on their health.
HURRICANE FLORENCE
The study, which looked at more than 36,000 nursing home residents exposed to Hurricane Katrina, found that 90 days after the storm, there were 579 more deaths and 544 more hospitalizations than in years when there was no hurricane.
"Basically, you're damned if you do and you're damned if you don't, as one [nursing home] administrator told me," Dosa said.
He said moving frail senior citizens comes with complications that younger, healthier people might not encounter during an evacuation.
"These are people who don't move easily," he said. "A lot of them have problems with their daily living. Some of them are on oxygen. So it's very easy to see how moving them would not be in their best interest."
But staying comes with obvious risks, too. Last year, a photo of nursing home residents in Dickinson, Texas, who were up to their waist in floodwater, became an iconic image of Hurricane Harvey's wrath.
While those residents were rescued after their photo went viral, sheltering in place has ended disastrously for other nursing homes: During Katrina, 35 residents drowned in one nursing home, St. Rita's in St. Bernard Parish.
Adam Sholar, president and CEO of North Carolina Health Care Facilities Association, said skilled nursing care centers make decisions regarding whether to evacuate or to shelter-in-place "in accordance with their emergency plans and decisions by local emergency management officials."
"Evacuating a center is a serious undertaking and not without risk given the care needs of the residents, many of whom are wheelchair or stretcher dependent for transportation. The decision to evacuate is, therefore, fact-and-circumstances based," he said via email.
Where residents go also becomes an issue in evacuations. Some are transported to other nursing homes or hospitals, although Dosa said hospitals typically don't want to house anyone before a storm hits because they are preparing for an influx of patients after the hurricane. Others go to standard evacuation centers, like high school gyms.
The ideal scenario, if a nursing home is going to be evacuated, is for a relative to pick up a resident, he said.
"Family members always have the right to come and get their loved ones, and self-evacuate them, which is often times not a bad idea," he said. "You're a lot more likely if you have just one person to meet their needs than if you're evacuating 100 people."
He encouraged nursing homes to do exactly what Trinity Grove are doing, provided they can have shelter from water and wind and are fully stocked with food, water and medication.
"By moving patients, you're going to lose two or three people. The only difference, of course, is they may die 30 or 40 days hence, but they can still be attributed to having succumbed to the storm," Dosa said.
At Trinity Grove, the staff is hoping for the best.
"All we can do is the best we can do, and I think everybody has taken this extremely seriously," Goins said.