Myanmar group founded by prominent dissident urges release of Reuters reporters
Comments
By Reuters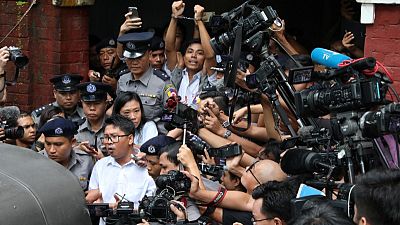 -
By Shoon Naing
YANGON (Reuters) – An organisation founded by one of Myanmar's most famous political prisoners and an old ally of Aung San Suu Kyi, called on Wednesday for the release of two Reuters journalists jailed after being found guilty of violating an official secrets law.
A court found the two Reuters reporters – Wa Lone, 32, and Kyaw Soe Oo, 28 – guilty on Monday last week and jailed them for seven years in a landmark case seen as a test of progress towards democracy in the Southeast Asian country.
"If Hanthawady U Win Tin was still alive, he would ask for their release. On behalf of him, this foundation stands with them and ask for their release," said Kyaw Aung, the secretary of the foundation.
Journalist Win Tin was one of Myanmar's longest-serving political prisoners during military rule. He was a founding member of Suu Kyi's National League for Democracy (NLD), which campaigned for democracy for years.
Win Tin, who died 2014 at the age of 84, spent nearly two decades in Insein prison on the outskirts of Yangon, where the two Reuters reporters have been held since they were arrested in December, and where Suu Kyi was also briefly held.
The foundation, based in the city of Yangon, was established seven years ago and has been supporting political prisoners and their families.
It is run by Win Tin's former colleagues and counts among its patrons Tin Oo, one of the senior-most figures in the movement against military rule and a senior NLD member.
Suu Kyi, who is now government leader, has made no public comment on the reporters since they were convicted. The government spokesman said last week the court that convicted them under the colonial-era Official Secrets Act was independent and followed due process.
The two reporters, who pleaded not guilty, were investigating the killing of 10 villagers from the Muslim Rohingya minority, by the Myanmar security forces, at the time of their arrest.
(Reporting by Shoon Naing; Editing by Robert Birsel)