China urges U.S. not to "gesticulate" about countries abandoning Taiwan
Comments
By Reuters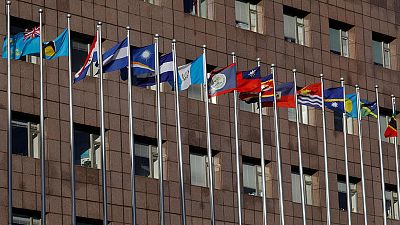 -
BEIJING (Reuters) – China urged the United States on Monday not to "gesticulate" or make irresponsible remarks about governments dropping diplomatic support for self-ruled Taiwan, noting that Washington itself long ago established ties with Beijing.
China's Foreign Ministry made the comment after the U.S. State Department said on Friday that it had recalled its top diplomats in the Dominican Republic, El Salvador and Panama over those countries' decisions to no longer recognise Taiwan.
Washington has expressed concern over the rising number of countries that have cut diplomatic ties with self-ruled Taiwan in favour of China, which views the island as a wayward province with no right to state-to-state ties.
El Salvador switched last month, while the Dominican Republic did so in May and Panama made the move last year.
Speaking in Beijing, ministry spokesman Geng Shuang said deciding who to have diplomatic relations with was a sovereign nation's right and should be respected.
"Other countries have no right to make thoughtless remarks about it or to gesticulate," Geng told a daily news briefing, when asked about the State Department decision to recall the ambassadors.
"We remind the individual country that they have themselves recognised the 'one China' principle, and the fact that many years ago they established diplomatic relations with the People's Republic of China," he added.
The United States should correctly view other countries establishing ties with China, cautiously and appropriately handle the Taiwan issue and not "take steps or say things that are irresponsible", Geng said.
In Taipei, Taiwan Foreign Ministry spokesman Andrew Lee declined to comment directly, but said Taiwan "has been communicating closely" with the U.S. government on issues related to Taiwan's international space.
Taiwan now has formal relations with only 17 countries, almost all of them small and less developed nations in Central America and the Pacific.
Like most other countries, Washington does not have diplomatic relations with Taipei but is the democratic island's main arms supplier and strongest international backer.
On Wednesday, U.S. senators introduced legislation that would authorise the State Department to downgrade U.S. relations with any government that shifts away from Taiwan, and to suspend or alter U.S. assistance.
China is deeply suspicious of Taiwan President Tsai Ing-wen, who it suspects of pushing for the island's formal independence, a red line for Beijing.
She says she wants to maintain the status quo with China but will defend Taiwan's democracy and security.
(Reporting by Ben Blanchard; Additional reporting by Yimou Lee in Taipei; Editing by Simon Cameron-Moore)