Power returning to Hokkaido, but quake exposes flaws of Japan grid
Comments
By Reuters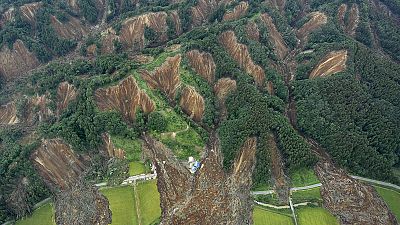 -
By Osamu Tsukimori and Aaron Sheldrick
TOKYO (Reuters) – After an earthquake knocked out power to 5.3 million people this week, Hokkaido Electric expects to restore service to most of them by the end of Friday, but experts say the island-wide outage highlights fundamental flaws in Japan's power grid.
The blackout that hit Japan's northern island of Hokkaido after early Thursday's quake was the nation's worst in seven years, but it would have been less extensive if the utility was not so reliant on one large power station, had spread its plants more widely, and could transfer power more easily from other areas, specialists and energy executives said.
In the aftermath of Japan's March 2011 disaster, when an earthquake and tsunami caused nuclear meltdowns and widespread power outages, the government mandated a boost in renewable energy supplies, opened up a roughly $70 billion retail electricity market to competition and created a grid oversight company to address these issues. But Hokkaido and other Japanese utilities have been slow to beef up networks and make them more resilient in a country that regularly experiences natural disasters, the specialists said.
"The crisis is primarily the result of over-reliance on a large coal plant in a centralized generation paradigm," said Andrew DeWit, a professor of energy policy at Rikkyo University in Tokyo.
"That is odd and dangerous, considering the multiplicity of hazards Japan confronts and has experienced in recent years."
While not as many people were affected by this week's outage as after the March 2011 quake and tsunami, it was the first time a regional utility in Japan lost its full network, according to the country's Federation of Electric Power Companies.
Hokkaido Electric Power had restored power to a little more than half of the island's 2.95 million households by Friday afternoon after receiving supplies from nearby Honshu and rebooting some of its generating units.
The utility's Tomato-Atsuma coal station, which normally supplies about half the island's electricity, remained shut after sustaining damage in the quake. It may take a week to restore power fully to Hokkaido.
Hokkaido Electric aims to have power restored to about 80 percent of the island's households by the end of Friday, according to Japan industry minister Hiroshige Seko.
The abrupt halt in supplies from Tomato-Atsuma, which has three coal-fired generators, caused such a huge imbalance in supply and demand that other power plants on Hokkaido were tripped and shut down.
"Adjusting supply and demand is very difficult. Hokkaido's power grid is small and the share of Tomato-Atsuma is large, so it must have been much a more difficult a situation than after the big earthquake that struck eastern Japan," said Tsutomu Oyama, professor of electrical engineering at Yokohama National University.
With its only nuclear plant shut pending approval to restart under new safety guidelines imposed since the Fukushima meltdowns of 2011, Hokkaido Electric has been investing in a new gas-fired station and expanding the capacity of its connection to Honshu. Cost cuts have slowed the process.
It plans to start operations of the gas-fired unit next month and complete a 50 percent expansion in capacity on the Hokkaido-Honshu connection by March next year, a Hokkaido Electric spokesman told Reuters. Those transmission lines currently can supply only about 600 megawatts of power.
Asked if there were lessons from 2011 that could have been applied to help mitigate the current situation, the spokesman said the utility had conducted drills for scenarios including the shutdown of all three units at Tomato-Atsuma but did not provide details.
"It is difficult to answer this question because the 2011 quake and yesterday's quake are different situations," he said.
(For a graphic on 'MAP: Earthquake in Hokkaido' click https://tmsnrt.rs/2oJz6zd)
(Reporting by Osamu Tsukimori and Aaron Sheldrick; Additional reporting by Linda Sieg; Editing by Tom Hogue)