Myanmar aid restrictions 'could be war crime', says rights group
Comments
By Reuters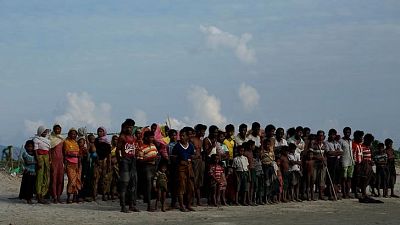 -
By Aye Min Thant
YANGON (Reuters) – Government restrictions on lifesaving aid for displaced people in northern Myanmar could constitute a war crime, advocacy group Fortify Rights said on Thursday, as pressure grows for accountability for rights abuses in the country.
The rights group released a detailed report on aid restrictions just days after U.N.-mandated investigators said Myanmar's military carried out mass killings and gang rapes of Muslim Rohingya in Rakhine State in the west of the country with "genocidal intent".
Myanmar rejected the report saying the international community was making "false allegations".
Myanmar has come in for criticism for blocking aid agencies from conflict-torn parts of Rakhine, and has also faced accusations of cutting off thousands of people displaced by fighting between government forces and ethnic minority guerrillas in Kachin State and the north of Shan State, both in the north.
"The government of Myanmar's wilful deprivation of humanitarian aid to displaced civilians in Kachin State violates domestic and international law, and could amount to a war crime," said David Baulk, a Myanmar human rights specialist for Fortify Rights.
Reached on Thursday, government spokesman Zaw Htay said he was in a meeting so could not comment. Military spokesman Major General Tun Tun Nyi could not immediately be reached.
Baulk said the U.N. Security Council should refer Myanmar to the International Criminal Court to investigate.
Fortify Rights closely monitors human rights in Myanmar and said it conducted nearly 200 interviews, most in Kachin State, over a five-year period to reach its conclusions
Myanmar officials have in the past justified restrictions saying aid was being diverted by guerrillas to support their insurgencies.
More than 100,000 people have been displaced in the mountainous region bordering China and India since 2011, when a ceasefire between the government and Kachin insurgents broke down.
La Rip of the Kachin Development Group aid organisation told a news conference organised by Fortify Rights in the city of Yangon that aid groups like his were forced to evade government restrictions to get help to internally displaced people.
Fortify Rights said its research showed that in the year to June, only 5 percent of aid workers' applications to travel in government-controlled areas in the north were granted.
The U.N. investigators, who also documented abuses Kachin and northern Shan states, recommended that top generals be investigated and prosecuted for war crimes.
(Reporting by Aye Min Thant; Editing by Simon Lewis, Robert Birsel)