Electric shock dog collars to be banned in England
Comments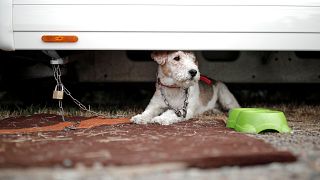 Electric shock collars used to correct pets' behaviour will be banned in England, the government announced.
The device sends an electric pulse or emits a noxious spray to the animals to stop unwanted behaviour.
Michael Gove, UK's secretary for environment, announced on Monday the government would introduce new legislation to ban the use of such training collars.
"We are a nation of animal lovers and the use of punitive shock collars cause harm and suffering to our pets," said Gove, adding that he urged the use of positive reward training methods.
Research funded by the UK's Department for Environment, Food, and Rural Affairs (DEFRA) found that electric shock collars could have a "detrimental welfare effect" on the state of dogs and could "cause harm and suffering," a government consultation document read.
The law follows a public consultation on a proposed ban for all e-collars.
Dog welfare organisation, The Kennel Club, welcomed the decision, and said the news would "ensure dogs are trained using positive methods, free from pain".
However, the ban will not include invisible fencing systems — a decision contested by the Royal Society for the Prevention of Cruelty to Animals (RSPCA).
Wales was the only country in the UK where electric collars were already banned.