American Sock breaks first-round curse with victory over Andreozzi
Comments
By Reuters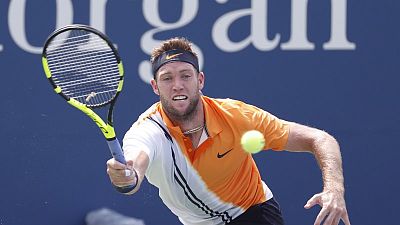 By Amy Tennery
NEWYORK (Reuters) – Jack Sock advanced to the second round of the U.S. Open Monday, defeating Argentina's Guido Andreozzi in straight sets – 6-0, 7-6(4), 6-2 – breaking a frustrating streak of first-round men's singles knockouts for the American in the last four Grand Slams.
Sock sailed through the first set in just 20 minutes, then battled through four tiebreaks to take the second, before dominating the third with a power serve reaching 133 miles per hour.
"I know the level of tennis I can play. And, you know, it
hasn't shown in every match this year," Sock told reporters. "One week it was going to turn and I'm glad it's at least started here, and hopefully I can keep it going."
Sock, who has claimed two Wimbledon men's doubles titles, including one this year with American Mike Bryan, told reporters that competing in doubles matches helped him persevere through the rigours of the competition schedule.
"Obviously doubles has kept me in some tournaments, gave me confidence," Sock said, "and motivation just to be on court
in general."
And while a series of disappointing tournament starts – not to mention a hip injury sustained during practise just after Wimbledon – would seem a burden to some, Sock told reporters he took the setbacks in his stride.
"Unless your name is Federer, Djokovic, or Nadal, you're probably not winning most weeks," Sock said. "I know if I'm playing good tennis and I'm doing all things right, I can compete to win almost every tournament I play."
(Reporting by Amy Tennery; Editing by Andrew Bolton)