Turkish lira falls as tensions rise again with the US
Comments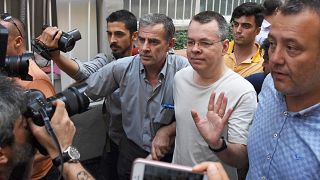 -
Turkey's lira has weakened further against the dollar after US President Donald Trump said he would give Turkey no concessions in return for the release of a detained American pastor.
Also on Tuesday, Ankara said it would make an official complaint to the World Trade Organisation about the economic sanctions the US has imposed on it.
The move comes after Trump this month said he would double tariffs on Turkish metal imports over Turkey's trial on terrorism charges against Andew Brunson, an evangelical Christian pastor.
Originally from North Carolina, Brunson has lived in Turkey for two decades. He has become an unwitting flashpoint in the diplomatic rift between the two NATO allies. The crisis has deepened turmoil in Turkey's financial markets.
"Turkey has requested WTO dispute consultations with the United States concerning additional import duties imposed by the United States on steel and aluminium products," the WTO said in a statement on its website.
Under dispute consultations, both sides have 60 days to seek a solution, then the issue can go to the WTO Dispute Settlement body.
Criticising the state of U.S. relations with Ankara, Trump this month authorised a doubling of duties on aluminum and steel imported from Turkey, making them 20 percent and 50 percent respectively.
Relations between the two NATO allies have been steadiliy deteriorating and the pastor, who's been detained for 21 months, has hit a particularly raw nerve.
Trump has said that, after he helped persuade Israel to free a detained Turkish citizen, he thought Turkish President Recep Tayyip Erdogan would then release Brunson.