England cricketer Stokes cleared after trial over street brawl
Comments
By Reuters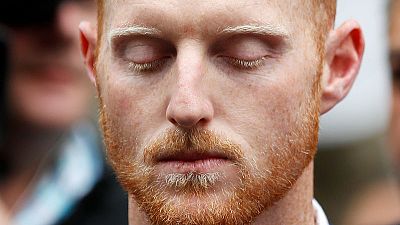 -
LONDON (Reuters) – England cricketer Ben Stokes was cleared of affray on Tuesday over a fight outside a nightclub last year which prosecutors said had left two men unconscious.
The England Cricket Board said Stokes would now join the England squad for the third test against India which starts on Saturday, and would at some point face a disciplinary process.
Stokes, 27, was accused of knocking out Ryan Ali and Ryan Hale in a brawl in Bristol, southwest England, just hours after he had played in a one-day international against the West Indies last September.
Ali, 28, was also found not guilty of affray. Hale was acquitted of the same charge part way through the trial at Bristol Crown Court.
Prosecutors said all-rounder Stokes, who helped England to victory in the first test against India this month but missed the second match because of the trial, had lost control after drinking heavily earlier in the night.
His lawyer Paul Lunt said in a statement after the verdict that the case had cost Stokes the England vice-captaincy, his place on an Ashes tour to Australia last winter and in other England matches.
"The past 11 months have served to highlight to Ben just how highly he values his position as an England representative, both in terms of the privilege that role entails and the responsibilities that accompany it," Lunt said.
"Now that the trial is over, Ben is keen to get back to cricket being his sole focus," he added.
Prosecutors had told the court that after being refused entry to the Mbargo nightclub, Stokes had abused the doorman and then mocked two openly gay men. The cricketer, who was with fellow England international Alex Hales, then got into a fight with Ali and Hale.
Stokes, who had denied the charge of affray, told the jury he had been acting in self-defence after stepping in to defend the gay couple who had been on the receiving end of homophobic abuse.
(Reporting by Michael Holden and Stephen Addison; editing by Jon Boyle)