A look at the European Championships results by population - who came in first?
Comments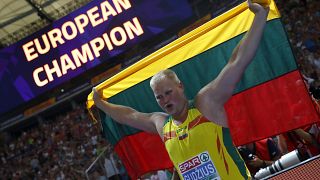 Copyright

REUTERS/Kai Pfaffenbach

-
The European Championships ended yesterday with Russia and Great Britain atop the medal standings. The 11-day event showcased 4,215 athletes from over 30 countries competing in dozens of events from golf to synchronized swimming.
Russia led the field with 31 gold medals, ahead of Great Britain who finished the event with 26 golds. Great Britain lead the overall medal count with 74. Italy, the Netherlands and Germany rounded up the top five in total medal count.
On top of gold medals won, Russia also lead all participating countries in total population, with 142,257,519 – equaling 1.42 medals per 100,000 Russian citizens.
Lithuania represented the Baltic-states well by winning seven medals at the event. With a population of 2,823,859, Lithuania has the third smallest population at the games.
Andrius Gudžius took home the country's only gold in the men's discus throw. The Baltic-country also won medals in rowing and swimming events as well.
Iceland represented the smallest population among participating countries with only 339,747 citizens. Their two medals equal 5.89 medals per 100,000 Icelanders.
Iceland won both of their medals in team golf, winning a gold in the mixed competition and a silver in the men's competition.
The Netherlands ranked 4th overall in the competition, with a total medal count of 43 while having a total population of 17,084,719, or 2.52 medals per 100,000.
Switzerland tallied a respectable 19 total medals, including eight golds, while having a population of 8,236,303. Belgium also had 19 total medals with a population of 11,491,346.
Hungary, with a population of 9,856,845, won 15 total medals, including nine in swimming events.
Belarus and Greece both collected nine medals each with populations hovering around 10 million.
Turkey won six total medals, the least per capita among participating countries, with 0.07 medals per 100,000 Turks.