Canada police charge man in Fredericton shooting, identify victims
Comments
By Reuters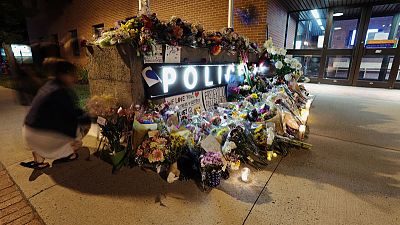 TORONTO (Reuters) – Canadian police charged a man in the shooting deaths of four people, including two police officers, and identified the civilian victims, who was killed in the eastern city of Fredericton, the latest eruption of gun violence in the country.
Police charged Matthew Vincent Raymond, 48, with four counts of first degree murder, according to a statement on Saturday, which identified the civilian victims as Bobbie-Lee Wright, 32, and Donald Adam Robichaud, 42. They did not release information about a possible motive or the weapon.
The four, including police officers Sara Mae Burns, 43, and Lawrence Robb Costello, 45, were shot at an apartment complex in Fredericton, a city of about 56,000 that is the capital of the province of New Brunswick. [L1N1V11UR]
Police said the officers responded to a report of shots fired early on Friday morning and found two civilian victims on the ground. Burns, who had served two years on the force and another two as an auxiliary officer, had three children. Costello, a 20-year veteran, left behind four children.
Canadian media quoted a cousin of Robichaud's as saying he was a local musician who had three children.
Gun laws in Canada are stricter than in the United States, but a proliferation of weapons has led to an increase in gun-related crimes in recent years.
Friday's shooting occurred three weeks after a gunman walked down a busy Toronto street, killing two people and wounding 13 before killing himself.
(Reporting by Anna Mehler Paperny; Editing by Steve Orlofsky)