Athletics - Oh brother! Ingebrigtsen beats siblings for historic win
Comments
By Reuters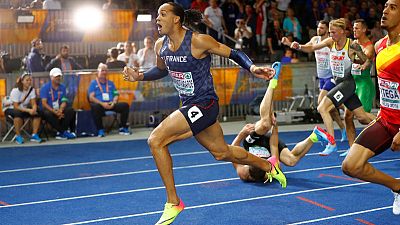 BERLIN (Reuters) – His two brothers had always said that Jakob Ingebrigtsen was going to be the best of them all. The 17-year-old proved them right on Friday as he became the youngest winner of an individual track title in the 84-year history of the European Athletics Championships.
The fairytale of the three Norwegian siblings, who had hoped to achieve a unique 1-2-3 in the 1500 metres final, never materialised in the Olympic Stadium, with oldest brother Henrik finishing fourth and race favourite Filip 12th.
Yet the story of the youngster who beat Europe's best at the age of 17 years 324 days to follow 2012 champion Henrik and 2016 winner Filip as the continent's metric mile champion was still one of the most outlandish the Championships has seen.
The three brothers, whose story has enraptured Norway, all expected Filip to successfully defend his title but after getting spiked when falling in his semi-final, the champion faded out of contention after the trio all led at half-way.
Instead, it was the outstanding youngster Jakob who ran a remarkably mature race, outpacing his pursuers down the home straight to win in 3 minutes 38.10 seconds and become the first European champion born in this Millennium.
Tiring at the finish, he had looked across, probably expecting to see Filip roaring through with the fast finish. Instead, it was a familiar late, late show from Poland's Marcin Lewandowski, which just failed to spoil the script by 0.04 seconds.
Another "happy families" story saw Belgium's evergreen 30-year-old twins Kevin and Jonathan Borlee win silver and bronze respectively in the 400m but neither could live with Britain's Matthew Hudson-Smith, who started strongly and held on to win in 44.78sec.
Karsten Warholm's audacious bid to add the one-lap flat title to his 400m hurdles crown ended, almost predictably, with the Norwegian lying physically shattered on the track after finishing last.
Nafi Thiam again underlined why she is Europe's finest all-round athlete with a champion's spirit to match her rare talent as she completed her set of heptathlon titles in style.
Facing a serious challenge to her seven-event supremacy, Belgium's Olympic and world champion, 87 points behind world indoor pentathlon champion Katarina Johnson-Thompson overnight, responded magnificently on the second day.
Thiam hurled a championship record 57.91m in the javelin at the last attempt, while Johnson-Thompson's weakness in the discipline was shown up again despite a lifetime best 42.16m. The 305-point swing effectively sealed the gold.
Thompson, a far better 800m runner, gave it everything over the two laps and beat Thiam by nearly 10 seconds. But the Belgian, with a 13.5-sec cushion, was always in control, taking her final tally to 6816 points, 57 ahead of the courageous Briton.
No Russian team was allowed to compete in Berlin because of the IAAF's continuing doping ban on the national federation.
Yet 25-year-old high jumper Mariya Lasitskene, arguably the world's most dominant athlete in her event, was one of 29 cleared to compete as an "Authorised Neutral Athlete" and, predictably, she took the gold with a 2.00-metre leap.
Never, though, has an athlete looked less happy with gold. Lasitskene, who won 45 events in a row until her streak ended a few weeks ago, looked like thunder, the perfectionist scowling and shaking her head because she only won on countback from Bulgaria's Mirela Demireva.
Another Russian "ANA", former world 110m hurdle champion Sergey Shubenkov, lost the most dramatic of finals, beaten in a photo-finish by Frenchman Pascal Martinot-Lagarde, with both credited with 13.17sec.
Swiss Lea Sprunger, bronze medallist two years ago, graduated to gold in the 400m hurdles, winning in 54.33sec. Ukraine's Nataliya Pryshchepa became the first woman to successfully defend a European 800m title, clocking 2:00.38 after a beautifully-timed late surge.
(Reporting by Ian Chadband; editing by Andrew Roche)