Soccer - Bilbao's Kepa pays 80 million euro release fee ahead of record Chelsea move
Comments
By Reuters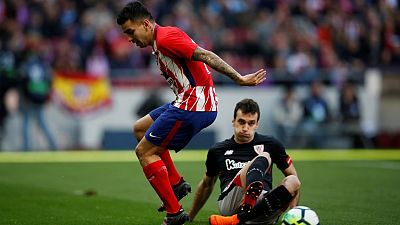 -
By Rik Sharma
LONDON (Reuters) – Athletic Bilbao goalkeeper Kepa Arrizabalaga has paid his 80 million-euro (71.9 million pounds) buy-out clause to break his contract with the Spanish side ahead of a reported move to Chelsea.
The 23-year-old is expected to sign for the Premier League side on Wednesday, with current goalkeeper Thibaut Courtois poised to move to Real Madrid.
"La Liga has confirmed to us that Kepa Arrizabalaga has fulfilled the requirements for the unilateral termination of his contract with Athletic Club," said Bilbao in a statement.
"(He has ended) the relationship that linked him to us since the 2004-05 season and the amount of compensation established in the contract has been deposited."
At 80 million euros, Arrizabalaga will become the most expensive goalkeeper in football history, ahead of Liverpool's Alisson Becker, who moved from AS Roma for 75 million euros earlier in the transfer window.
After being strongly linked to Real Madrid, Arrizabalaga signed a new deal with Bilbao in January which raised his release fee to 80 million.
Chelsea coach Maurizio Sarri praised Arrizabalaga on Tuesday night.
"I saw (Kepa) one year ago, my first impression was that he is a very good goalkeeper, very young but very good," said the Italian coach after his team drew 0-0 with Olympique Lyonnais in a friendly.
)
(Editing by Christian Radnedge)