Europe briefing: Five stories to know about today
Comments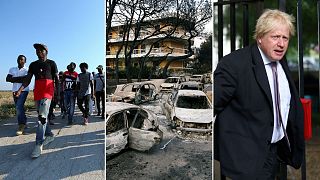 Spain is most popular destination for migrants coming to Europe, figures confirm
Spain has taken in more than 40% of irregular migrants who crossed the Mediterranean Sea into Europe this year, according to the UN Migration Agency, surpassing last year's number one — Italy — which saw an 80% decrease in arrivals in 2018 compared to the previous year.
It means the number of migrants heading to Spain has nearly tripled when compared to those who registered at this time last year, where 23,741 were taken in via the Mediterranean by the end of July, compared to 8,677 for the same period in 2017.
Ryanair pilots in Germany to strike this week
Ryanair pilots based in Germany are set to stage a 24-hour strike on Friday, their union Vereinigung Cockpit said on Wednesday, adding that the walkout will affect all flights from Germany.
The move adds to action being planned in Sweden, Ireland and Belgium on the same day.
It comes amid mounting anger at the Dublin airliner's failure to reach collective labour agreements across Europe, with the Swedish Airline Pilots Association accusing them of dodging union rep meetings for over eight months.
Ryanair, which operates in 37 countries, only decided to recognise unions for the first time in its 32-year history in December.
UK PM calls on Boris Johnson to apologise after burka comments
British Prime Minister Theresa May has backed calls for former foreign secretary Boris Johnson to apologise after he described burka-clad Muslim women as "letterboxes" who looked like "bank robbers".
The Conservative MP made the comments in an article he authored for the Telegraph newspaper on Monday in which he argued against a UK ban on the Islamic garment.
On Tuesday, May acknowledged that Johnson "clearly caused offence" and agreed with tory party chairman Brandon Lewis that Johnson should say sorry, urging that people should be "very careful" about the language they use to discuss sensitive issues.
But Johnson has so far failed to retract his comments.
Greece to tear down thousands of illegal buildings after deadly wildfire
Greek PM Alexis Tsipras has confirmed that thousands of unlicensed buildings will be demolished, including about 3,200 in Attica region, after they obstructed escape routes as wildfires ripped through the area last week.
Around 91 people died in the blaze, thought to be the deadliest in Greece's history.
Tsipras vowed to crackdown on the "chaos of unruly construction" in the country, which has persisted for decades.
"Whatever represents a danger will be torn down," he said on Tuesday. "It is our duty to our dead, but more so towards the living."
Italian government approves 'dignity decree'
Italy's coalition government has passed the so-called "dignity decree", which would limit the length and renewal of fixed-term contracts and increase compensation awarded for unfair dismissals.
The anti-establishment Five Star Movement and nationalist League party passed the legislation on Tuesday with 155 in favour and 125 against, with one abstention.
"The #dignitydecree has been definitively approved by parliament. Citizens 1 - The System 0," Five Star leader and labour minister Luigi Di Maio said on Twitter.
Italy's unemployment rate is high, standing at 32.6% in June for people aged 15 to 24 - well above the euro area average of 16.8% in May.
As it happened on Wednesday, August 8
This is how we covered key developments this morning: