New Mexico child abuse suspect accused of training children for shootings
Comments
By Reuters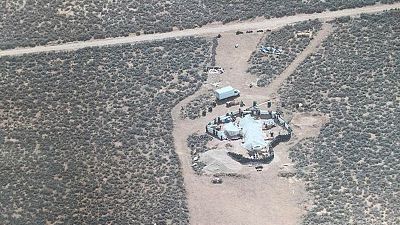 TAOS, N.M. (Reuters) – The primary suspect charged in the abuse of 11 youths found malnourished at a ramshackle compound in New Mexico was training the children with firearms to commit school shootings, prosecutors said in court documents filed in the case on Wednesday.
The suspect, identified as Huraj Wahhaj, is the father of a young boy whose disappearance from his home near Atlanta months ago prompted the investigation that led authorities to raid the compound, located north of Taos, New Mexico, last week.
Remains believed to be that of the boy, who was 3 years old when his mother reported him missing, were found at the property on Monday but have not yet been positively identified, authorities said.
Wahhaj, a second man accused of harboring him as a fugitive, and three women presumed to be the mothers of the 11 children, who were taken into protective custody from the compound, were each charged with 11 counts of felony child abuse.
The five defendants made their initial court appearance before a local magistrate on Wednesday. They were due to be arraigned later in the day.
Taos County Sheriff Jerry Hogrefe told reporters on Tuesday that investigators found a shooting range built at one end of the squalid compound, located on the outskirts of the community of Amalia in northern New Mexico, near the Colorado border.
Wahhaj, 39, whose first name is alternately presented in some court documents as Siraj and is the person described as being "in control" of the compound, was heavily armed when taken into custody, the sheriff said.
The FBI is also taking part in the investigation, the sheriff said. So far, no federal charges are known to have been brought in the case.
(Reporting by Andrew Hay in Taos, N.M.; additional reporting and writing by Steve Gorman in Los Angeles, editing by Larry King and Jonathan Oatis)