Venezuela's Maduro a no-show at support rally after drone blasts
Comments
By Reuters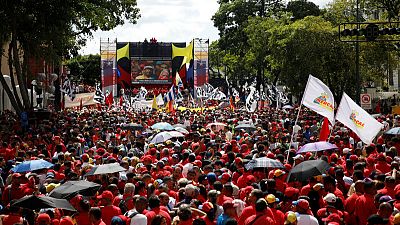 -
By Andreina Aponte and Shaylim Castro
CARACAS (Reuters) – Venezuelan government sympathizers on Monday rallied to show support for President Nicolas Maduro following weekend drone blasts that he called an assassination attempt, but the socialist leader surprised the crowd by skipping the event.
Maduro, whose approval ratings hover around 25 percent, with opponents blaming his policies for worsening an economic meltdown, has urged supporters to unite in the face of what he described as right-wing plots led by the Colombian government and exiles in the United States.
Colombian President Juan Manuel Santos has scoffed at the accusations, saying he was fully focused on his granddaughter's baptism, while U.S. national security adviser John Bolton said Washington was not involved in the blasts.
Supporters wearing t-shirts emblazoned with Maduro's face massed in Caracas on Monday, chanting pro-socialist slogans and enjoying subsidized corn patties.
"We're willing to defend this process peacefully and through the development of ideas. But if we have to give our lives, we will," said Henry Jaimes, 37, an employee of Caracas' Youth Institute, as he waved a sign saying, "Alive and winning with Maduro."
But turnout was thin compared to previous marches, which would take over major avenues. Many in attendance were public sector employees, some of whom said they had been ordered to attend, according to Reuters witnesses. Keen supporters of late leader Hugo Chavez have increasingly soured on his far less charismatic successor.
Maduro, who made a televised speech shortly after the incident, had been due to speak from the Miraflores palace on Monday afternoon.
It was not immediately clear why he did not. The Information Ministry did not reply to a request for comment.
"Where is our comandante (leader)?" confused supporters asked when staff began packing up.
"We thought we would see and hear our president," said Tony Ugarte, 43, who is in charge of the distribution of subsidized food boxes in part of the working class neighbourhood of El Paraiso.
The government said suspects launched two DJI M600 drones laden with C4 explosives over an outdoor rally on Saturday afternoon, which had been held to commemorate the founding of the National Guard.
One drone was "diverted" by security forces while the second fell on its own and hit an apartment building, authorities said.
Six people have been detained, authorities said on Sunday. Intelligence agents on Monday searched an upscale hotel in eastern Caracas, workers at the hotel told Reuters, although it was not immediately evident if the searches were linked to the blasts.
(Reporting by Andreina Aponte and Shaylim Castro, Additional reporting by Mayela Armas and Adriana Loureiro, Writing by Alexandra Ulmer, Editing by Rosalba O'Brien)