Bid to block blueprints for 3-D printable guns
Comments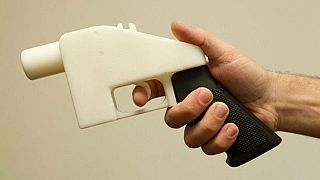 With mass shootings fueling the debate over gun control in the US, a number of states are planning to sue the Trump administration to ban 3-D printable guns.
The blueprints are set to go online on Wednesday, following a settlement between the US government and Texas-based company Defense Distributed.
The states will ask a federal judge to issue a restraining order blocking publication of the designs, saying the blueprints would allow criminals easy access to weapons.
Washington state's Attorney-General Bob Ferguson said: "The Trump administration recently chose to give access to potentially untraceable and undetectable firearms to any felon, domestic abuser or terrorist with a laptop and access to a 3D printer. Let me be clear: No background check, no waiting period, no serial number. Some of these 3D printed guns are made with materials that will not set off a metal detector."
Gun rights advocates say the fears are unfounded, saying the technology is expensive and the guns unreliable.
The company behind the guns was founded by self-declared anarchist and former law school student Cody Wilson.
Its files include 3-D printable blueprints for a plastic AR-15 semi-automatic assault rifle, a weapon used in many US mass shootings.