Paris' cooling bench is the latest tool to help people beat the heat
Comments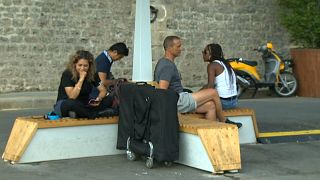 In the middle of a heatwave which is sweeping much of Northern Europe, Paris is testing out a  bench designed to provide relief from the heat.
The French capital's latest attempt for a summer oasis is 10-seat bench installed outside the Gare de Lyon.
It works by pumping cooled water from the River Seine that refreshes your legs and backside as soon as you sit down.
Paris is currently testing so-called small oases that are supposed to make the extreme heat more bearable. As well as the benches, the city has also launched an app to help Parisians find spots where they can cool down.
Temperatures are soaring in Paris and are set to get worse. François Gourand, weather forecaster at Météo France said: "Climate change has been confirmed. We will have to get used to more frequent heat waves. No matter what scenarios we play through, the number of heat waves will double by the middle of the 21st century."
The benches have been sponsored by the company Climespace which plans to build more of cooling benches across the city,