Greece: Door to door searches for the missing
Comments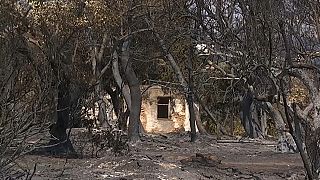 The death toll from a massive fire which ripped through a Greek coastal town stood at 80 on Wednesday, with dozens of people unaccounted for, as Greece is trying to recover from the horror of victims being burnt alive.
Rescue teams are combing through the area and the sea, trying to locate anything which could offer clarity on the missing.
The search is made door to door.
Rescuers told us that they go through houses two or three times just to make sure.
The exact number of missing people is not clear yet, but local authorities say that there are dozens.
Euronews Fay Doulgkeri, at the town of Mati says, ''The people who are searching loved ones after the fire are tragic figures. Holding pictures, they go around the burnt areas asking, they are pleading for information through social media and they use a special platform that has been created for missing people''.
People can put their pictures of their loved ones on the online platform, together with information about them.
The administrators told euronews that there have been two cases of people sending information as a prank and they are asking citizens to show sensitivity.