FBI Director Wray hints that he considered resigning
Comments
By Julia Ainsley with NBC News U.S. News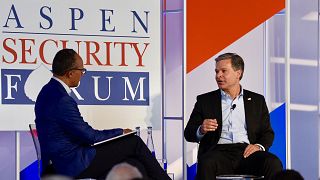 Copyright

Daniel Bayer Aspen Security Forum

-
ASPEN, Colorado — FBI Director Chris Wray suggested on Wednesday that he has previously threatened to resign — and pushed back against President Donald Trump's recent comments that cast doubt on Russian interference in the election.
"My view has not changed, which is that Russia attempted to interfere with the last election and that it continues to engage in maligned influence operations to this day," Wray told NBC Nightly News anchor Lester Holt at the Aspen Security Forum.
Wray also reaffirmed his position backing the U.S. intelligence community's finding that Russia interfered in the U.S. election.
Earlier Wednesday, Trump told a reporter "no" when asked whether he believed Russia continued to target the United States — although White House press secretary Sarah Huckabee Sanders later claimed that the president was simply saying "no" more questions.
When asked if he had threatened to resign, Wray did not explicitly confirm that he had done so.
"There have also been stories that you threatened to resign. Have you ever hit a point on that issue of sources and methods or anything else when you said, this is a line?" Holt asked Wray.
"I'm a low-key, understated guy, but that should not be mistaken for what my spine is made out of. I'll just leave it at that," Wray answered.
The FBI, which has been led by Wray for nearly a year following James Comey's dismissal, has been the target of criticism from Trump and Congressional Republicans for its role in the probes into Hillary Clinton's emails and Russia's attempts to influence the 2016 election. Wray has stood up to pressure to fire senior FBI officials and refused to hand over some information related to the federal probe into Russian interference in the 2016 election.
Politics
"I think if we start exposing sources and methods, we are setting a dangerous precedent," Wray said.
Axios reported earlier this yearthat Wray threatened to resign after Attorney General Sessions Jeff Sessions pressured him to fire Deputy FBI Director Andrew McCabe. Sessions eventually fired McCabe days before he was eligible for retirement over findings by the Justice Department's Inspector General that McCabe misled investigators about his interactions with a reporter in 2016.
Wray said he has a professional relationship with Trump regardless of the criticism his agency has come under. But, he said, he is often told by strangers: "I just want you to know, we're all praying for you."
He was sworn into the position of FBI Director in August 2017, replacing Comey, whose abrupt firing prompted the appointment of Special Counsel Robert Mueller to investigate Russian interference and possible collusion between Russians and the Trump campaign. Trump has repeatedly called Mueller's probe a witch hunt — a label Wray rejected.
"I do not believe special counsel Mueller is on a witch hunt. I think it's a professional investigation conducted by a man that I've known to be a straight shooter."
Wray said China is the broadest, most challenging, most significant threat to the United States.
"For them it is a whole of state effort. It is economic espionage as well as traditional espionage," Wray said, adding that the threat from China is something that cannot be underestimated.